Linguine with Avocado, Tomato & Lime


You can't go wrong with gourmet wraps to snack on while at work. Forget the traditional ham and cheese and impress your picnic guests with this tasty pasta dish!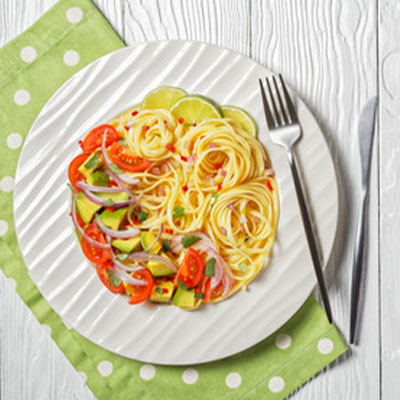 INGREDIENTS (Serves 2)
· 115g wholemeal linguine
· 1 lime, zested and juiced
· 1 avocado, stoned, peeled, and chopped
· 2 large ripe tomatoes, chopped
· ½ pack fresh coriander, chopped
· 1 red onion, finely chopped
· 1 red chilli, deseeded and finely chopped
Macros: (1 Serving)
KCALS: 450
CARBS: 49g
PROTEIN: 11g
SUGAR: 11g
FAT: 20g
FIBRE: 13g
Method
Prep Time: 15 mins approx.
STEP 1
Bring a Saucepan of Salted Water to the boil
STEP 2
Add the linguine to the boiling water, then simmer for 10 minutes.
STEP 3
Zest the lime with a grater
STEP 4
Using a juicer, squeeze all the lime juice out.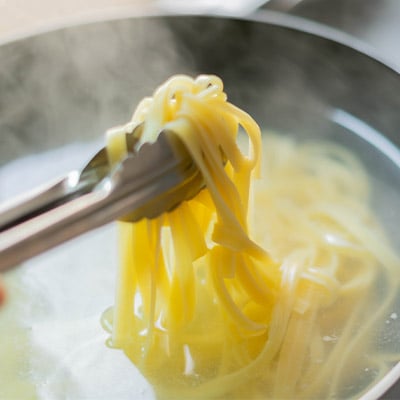 STEP 5
Using a chopping board and knife, chop up the avocado, and remove the skin and stone.
STEP 6
Chop up the tomatoes, coriander, onion and chilli (if using)
STEP 7
Mix everything into a mixing bowl well.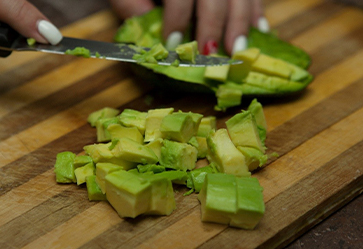 STEP 8
Drain the pasta with a Colander, toss into the bowl and mix well.
STEP 9
Serve on plates and eat straight away while still warm, or cold.