Careers
---
We like to think that working for Home Store + More is a little different, a little special.
We expect a lot from our colleagues and in return we are prepared to give a lot back. It's not just about the money and the benefits. Home Store + More colleagues care about giving great customer service. Everything we do is about trying to be the best. We don't have a fancy mission statement and we don't like buzzwords. It's about honesty and friendliness. It's about common values but, most of all, it's about having fun and enjoying work.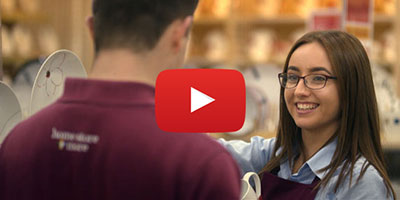 In the next couple of months we're planning more expansion. If you share our passion for service and you take pride in sending customers home happy, we could find room for your talents, as we regularly seek out hardworking, enthusiastic people to join our retail teams.
For a flavour of what it's like to work with us, take a look at the video featuring colleagues from our store in Swords, Dublin.