Korean Chili, Sesame & Honey Chicken (BBQ Addition)
Complete this delicious recipe by serving it up with some delicious buttery corn on the cob. Check out our recipe to make the perfect BBQ or baked corn on the cob in 3 easy steps !

Here'e a shoppable list of the equipment and utensils you'll need to make this yummy dish !
METHOD
BBQ TIME: 25-30 mins
Step 1:
Toss the chicken thighs in the soy sauce, sesame oil and ginger in a big bowl. Thread each thigh on two long metal skewers, so that each skewer pierces one side of the thigh.
Keep threading the chicken, making sure it's packed onto the skewers tightly.
Chill them in the fridge until you're ready to cook.
To create the glaze, mix the ingredients listed above.
Step 2:
Heat the BBQ. If using a coal BBQ, wait for the coals to turn ashen before you start cooking. Cook the kebab for 5-8 mins on each side (depending on the heat).
Once nicely charred - but not fully cooked through, start painting on the glaze. The honey will catch if cooked for too long – the key to nice sticky chicken is applying the glaze in layers & turning the kebab often.
Step 3:
Once the glaze has been used up and the chicken is cooked through (it'll take about 20 mins in total), transfer to a plate and leave to cool for 5 mins before serving.
Scatter some fresh spring onions on top to cut through the sweetness and enjoy !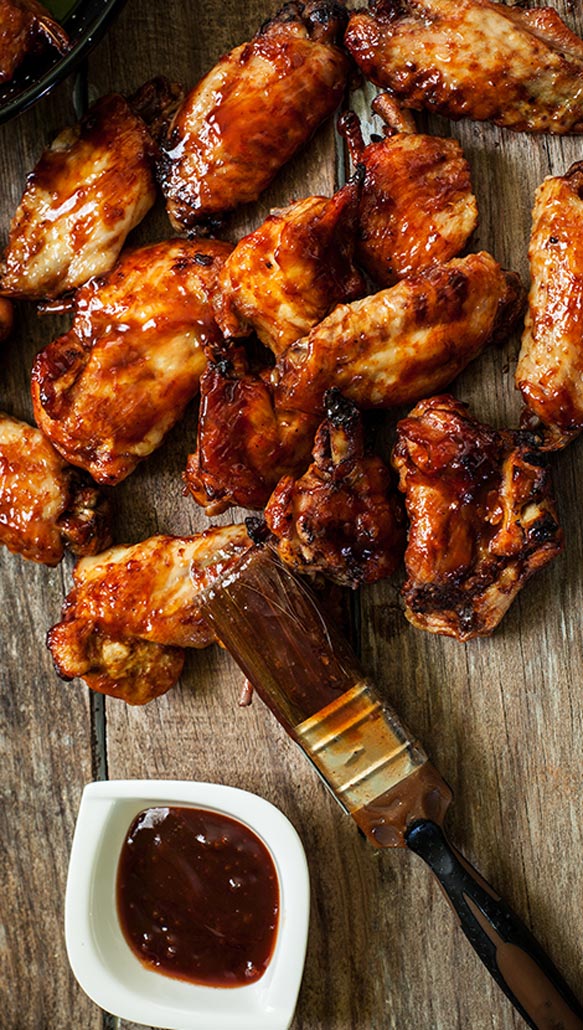 If you don't have Gochujang you can DIY your own by mixing 3 tablespoons of ketchup and 1 tablespoon of sriracha chilli sauce and VOILA.

You can alter how spicy/ sweet you want your chicken by adjusting the amount of chili paste and honey you add to the glaze.
The longer you leave the marinated chicken to cool before BBQ-ing the more flavorsome it'll be !
Try using metal skewers because they can be re-used and you don't have to worry about them burning and wearing away on the bbq !
Feel free to change up this recipe by swapping the chicken thighs for chicken wings and then serve with a refreshing garlic mayo dip !
Check Out Kitchen Utensils + More