Dog beds come in all shapes and sizes but which one you choose for your dog depends on preference. To ensure your dog is comfortable and happy, invest in two or three different beds that are different shapes. By doing this, you will offer your dog(s) variety.
Pet Cushions
These can be comfortable for dogs that like lying completely flat and relaxing. They provide space and zero space restrictions - allowing them to stretch.
Circular Beds
Round and oval shaped beds can be great for dogs that like cuddling and curling up to snooze. They provide comfort and warmth.
HIGH RIMMED BEDS
These are beds that have higher sides - also referred to as box beds. These can be great during colder seasons as they keep out droughts and help your dog stay warm & cozy.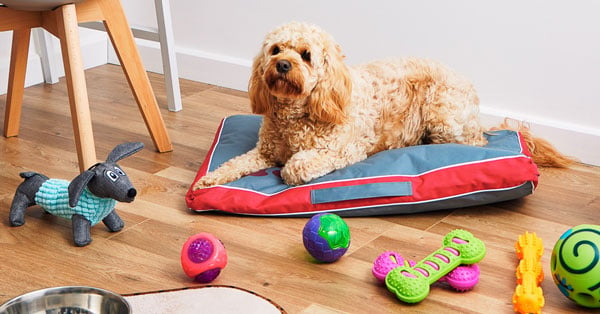 CHOOSING THE RIGHT BED
Make sure that when you're dog isn't exploring and playing - that he/she is well rested. Sleeping and resting is as important as keeping them stimulated and happy by playing with toys. If you want to learn more about 'Why Squeaky Toys' are important then check out our page ! Make sure to pick a bed that is large enough for your dog to lie in but also to naturally move around in.
HOW TO WASH A DOG BED
To make sure you're keeping your dogs' bed pristine and clean - check out our guide on 'How To Wash a Dog Bed'. Our guide will help you wash your dog bed based on material and just how much it needs a thorough clean !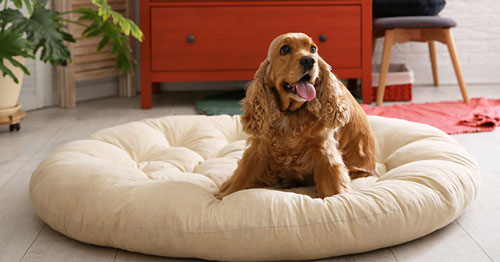 TOP TIPS !
DOG BEDS FOR OLDER DOGS
For older dogs, or dogs that suffer from joint problems & aches - you should opt for orthopedic beds for them if possible. Another option is memory foam beds!
SHOULD I LET MY DOGS SHARE A BED
To avoid competitiveness we recommend you have a dog bed per dog. If you're short on space or tight on budget that try to opt for one bed but make sure it's large enough to allow all the dogs to lie comfortably.
WHERE SHOULD I PLACE MY DOG BED
We recommend you place a dog bed in a quiet area in the house so your dog can relax and unwind and then another bed in a busy part of the home. This is to allow your dog to socialize and feel like it has company when he/she feels lonely.