3 Reasons Why Dogs Like Squeaky Toys
Squeaky toys for dogs come in various forms and sizes! Some may be in the form of tennis balls, frisbees and other classics. Whereas some are more complex to engage your dog more.
There are many reasons as to why dogs like squeaky toys- in particularly squeaky chew toys. However all those reasons stem for three main points; Animal Instinct, Sound Stimulation and Dental Health.
At Homestore & More we have all sorts of pet toys to help you have happy, healthy pets.
Animal Instinct
The difference between a squeaky and non-squeaky toy for dogs is that it triggers their hunting instincts as animals. They know it makes sound and they get a desire to hunt and find it.
This varies depending on the breed of dogs, some breeds have more of a hunting desire than others- for example Jack Russells.
Sound Stimulation
Animals love the noise that comes from the squeaky toys- it stimulates their progression. When a toy squeaks after they bite or chew on it, it lets them know that they have a strong bite. It then encourages them to continue playing and chewing on the toy. The noise also triggers a release of dopamine in dogs which is considered from their 'reward center'. The squeaky toy almost acts as a trigger for a positive 'feedback' cycle.
Dental Health
Studies show that dogs biting on chew toys reduces their build up of plaque and therefore leaves them with better dental health. Biting on the squeaky chew toy can also leave their mouth relaxed and massaged because it scrapes against their teeth.
This can be particularly good for puppies who are teething- it ca bring them a large amount of relief.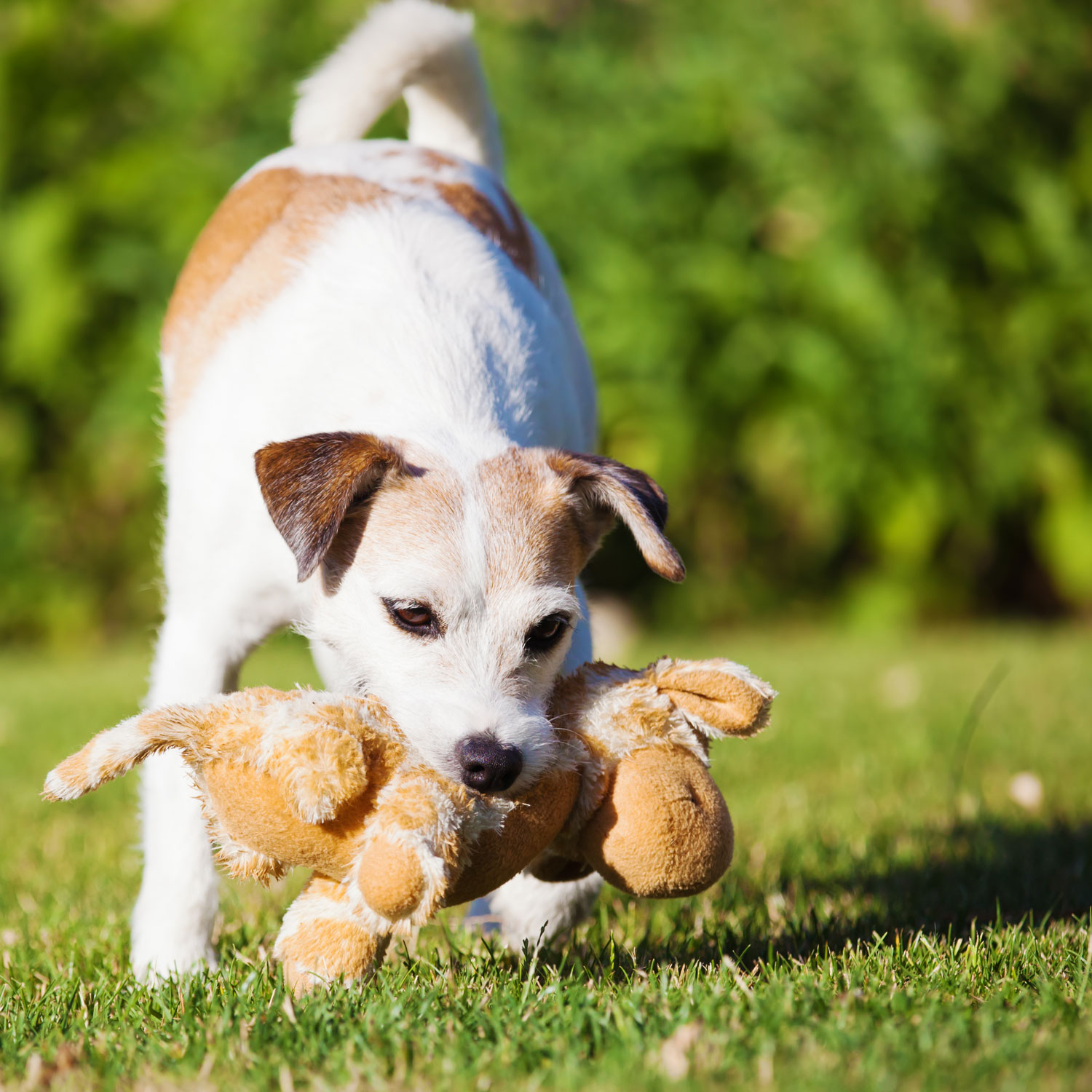 How To Clean Dog Toys
Hard/ Rubber Toys
Use a rough brush (eg. scrubber) and try to scrub off any hard dried debris. Then wash in warm, soapy water and rinse off very well. If you want to go the extra mile then sanitize in water diluted bleach.
Plush & Rope Toys
Remove dry debris using a brush. Then sanitize them by placing them in the top rack of a dishwasher on a hot cycle OR in the washing machine. The dishwasher is more thorough due to high water pressure. Once clean, allow to air dry.
FREQUENTLY ASKED !
How to play with your dog ?
Dogs like squeaky toys because they stimulate their animal instinct of hunting prey. So to play with them- as opposed to putting the toys right in front of them, sometimes it's more engaging to place the toy further away from them on the floor and mimic prey.
What toys aren't safe for dogs to play with ?
This depends on the dog and the circumstances however, there are some to avoid if you want to be extra cautious. Small Toys (as they can be a choking hazard), Rubber Balls (they can get stuck in your dogs mouth) & lastly Rawhide Chews.
Safety tips when buying dog toys ?
Avoid purchasing dog toys that are not marked as pet proof or even child proof. Also, keep in mind the size of your dog when buying toys- avoid buying a toy that's too large/ small for your dog.
Why are chew toys great for puppies?
They help keep puppies teeth clean and also if they are still teething it helps relieve some of the pain and irritation.
HOW TO CLEAN YOUR DOG'S TEETH
Always speak with the vet first because dog breeds can differ when it comes to jaw alignment. Brush your dogs teeth everyday from when they're a puppy to allow them to get used to it. Buy dog toothpaste - you cannot use human toothpaste.