Judge is the perfect choice for all your everyday cooking needs.
Designed in Bristol and distributed in the U.K. and worldwide by Horwood Homewares, with a wide variety of more than a thousand kitchen accessories, the brand broadly covers all everyday kitchenware tasks of cooking, baking, food prep, eating & drinking well as small electricals.
Starting its journey in 1898, Judge successfully equipped the kitchen of thousands of families in the U.K. and abroad. While the enclosed 25-year guarantee on all core lines gives you peace of mind, our longstanding brand history and excellent reputation are proof of quality, great consumer experience and traditional family values.

Explore Judge's Other Categories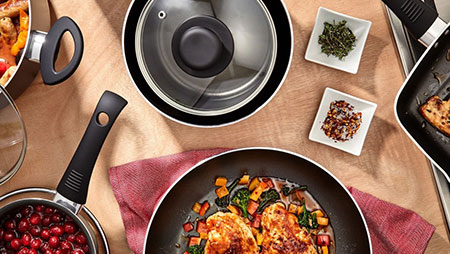 Judge believes in providing dependable, customer-centric, functional and innovative kitchen appliances at a good value proposition. They follow specific quality codes for products created to last longer, are easy to use, backed with a commendable service, and made with the finest quality material. With uncompromised quality and continual product innovation, each product is tested to last years together.
Judge provides a brilliant cooking experience and thrives on functional innovation which ensures durability and performance every time. Cookware from Judge is an effective way to cook and serve with elegance.