Home delivery
In stock
Free Click + Collect
Delivery & Returns €4.99 Delivery, Free over €50
FREE Standard Delivery over €50
Complete The Set
Kitchen & Cookware / Kitchen Utensils & Accessories / Kitchen Storage
https://www.homestoreandmore.ie/food-containers/felli-1.6l-cereal-dispenser-with-scooping-cup/117220.html?variantId=117220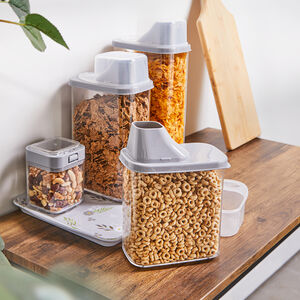 https://www.homestoreandmore.ie/food-containers/felli-1.6l-cereal-dispenser-with-scooping-cup/117220.html?variantId=117220
€8.99
8.99
Ready in 2 hours for Click + Collect
Home delivery available
Kitchen & Cookware / Kitchen Utensils & Accessories / Kitchen Storage
https://www.homestoreandmore.ie/food-containers/felli-cereal-dispenser-with-scooping-cup-2.8l/117222.html?variantId=117222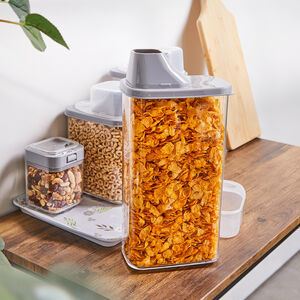 https://www.homestoreandmore.ie/food-containers/felli-cereal-dispenser-with-scooping-cup-2.8l/117222.html?variantId=117222
€11.99
11.99
Ready in 2 hours for Click + Collect
Home delivery available
Kitchen & Cookware / Kitchen Utensils & Accessories / Kitchen Storage
https://www.homestoreandmore.ie/food-containers/felli-0.45l-flip-up-food-storage-container/117223.html?variantId=117223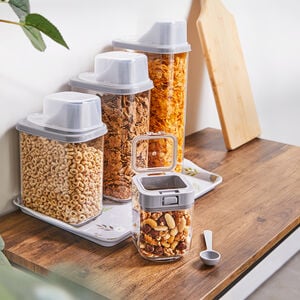 https://www.homestoreandmore.ie/food-containers/felli-0.45l-flip-up-food-storage-container/117223.html?variantId=117223
€7.99
7.99
Ready in 2 hours for Click + Collect
Home delivery available
Organise your cupboards with the Felli Pourfect Dispenser With Scooping Cup 2.2L. The handy container features a pour top which is ideal for your favourite cereals, pasta, and so much more. The scooping cup is an added feature to make it even easier for you to access your food.
Minimise mess and keep your kitchen tidy with the Felli dispenser. The generous 2.2L size ensures you can neatly store your food and keep it fresh for longer. The material is BPA-free and of excellent quality to give a long-lasting product.
The Felli storage containers come in compact shapes, so you can easily fit them into your cupboards and maximise space. Shop our kitchen storage section to find the right style and size for you.
Features
Felli Pourfect Dispenser With Scooping Cup 2.2L

Perfect For Cereals & Pasta

Convenient Pour Top

Scooping Cup

BPA-Free

Dishwasher Safe
| | |
| --- | --- |
| Colour: | Clear |
| Capacity: | 2.2L |
| Material: | Plastic |
| Brand: | Felli |
| Dishwasher Safe: | Yes |