Homestore and More Curtains: Buying Guide

STEP ONE
You need to decide where you're placing the curtains and measure for them. Check out our in-depth measuring for curtains guide to find an method appropriate for you.
STEP TWO
Once you measure for the curtains, choose the curtains you would like - keep in mind the measurements you took. Check out our range of curtains below and find whats best for you and your home!
STEP THREE
Hang up your Curtains ! Holding the curtain with the face of the fabric towards you, fold the first eyelet away from you and thread the eyelet onto the curtain pole. When you close the curtains, you should position the first eyelet on the outside edge of the pole bracket.
Repeat this process again with the second curtain.
Homestore & More Curtains
Voile & Net Curtains
Voile and net curtains are no longer traditional, they're the new in for those who prefer a minimal style. Voile & net curtains can be perfect for making a room look more open and airy. Some people opt for them if they have a large window that they like to have on display.
They're particularity nice in kitchens and living rooms.
Make your voile and net curtains look more modern with your choice of decor- we recommend the use of plants and simple & sleek lighting fixtures & shades.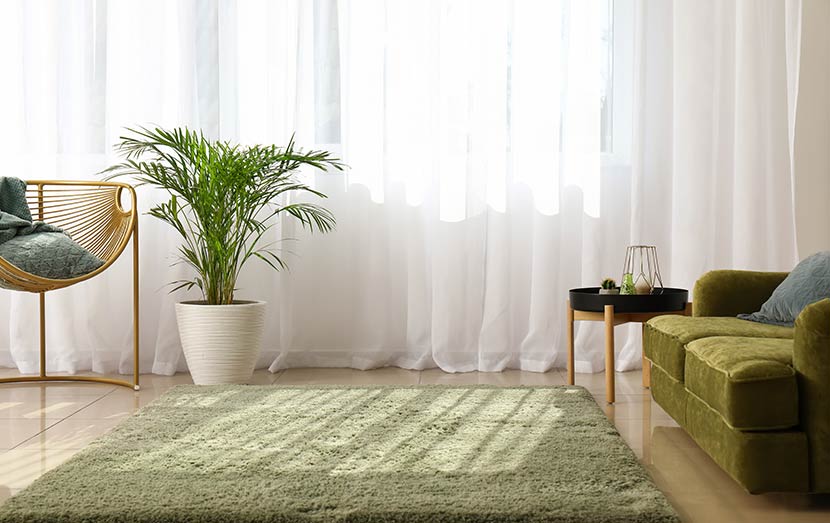 Do curtains come in pairs ?
Yes! All our curtains come in pairs and the measurements on the packaging are per curtain.
Do you iron curtains before hanging ?
If you iron your curtains (must be on fabric side on a low heat setting) you risk remove the pleats from the curtains. A better option is to hang up your curtains and let the folds fall naturally.
How far off the ground should your curtains be ?
This is down to your preference and your measurements. However opt for a couple of inches off the ground. This allows for mopping and hoovering. Some prefer a more draped look so opt for a couple of inches longer than their measurements.
Where can I buy extra wide curtains ?
At Homestore & More we offer an online only extended range in these sizes:
90" x 72" - 228cm x 182cm
132" x 90" - 335cm x 228cm
How to clean blackout curtains ?
For a quick clean, use the dust attachment on your hoover and gently vacuum the curtain whilst it's hanging.
For more details, visit our Blackout & Thermal Guide.
How to gather curtains ?
For an in-depth explanation as to how to gather your curtains, visit our 'Measuring Curtains Guide'.