Europe's Most-Awarded Sleep Brand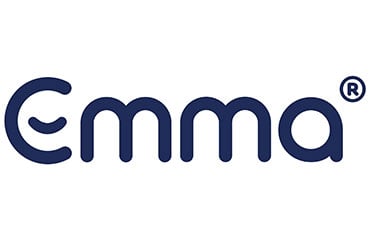 Wake up feeling epic on the UK's most-awarded mattress! Featuring the highest quality foams and made using the most advanced technologies, the Emma Original gives you the perfect amount of pressure relief, support, and comfort. As the most-sold advanced foam mattress since 2019 and with endorsements from Which?, GoodHousekeeping and numerous other independent testing facilities, you know you're onto a real winner with this mattress!
Take full advantage of our risk-free 200-night trial and try it now!
Our mattresses are proudly made in Ireland and undergo strict testing to ensure they meet the highest quality standards.
Uninterrupted sleeping bliss
The Original adapts according to your body shape, weight and your sleeping style. The medium firm surface gives you unparalleled support and comfort when lying down. Try it at home for 200 nights risk-free and find out what it's like to lie down on a cloud.
Thanks to our zero motion transfer technology, the Original is ideal for couples. If your partner tosses and turns at night, your sleep stays uninterrupted. And our breathable top layer keeps you cool at night so you can wake up the next day full of energy!
Layers of the Original mattress
1. Temperature-regulated top cover
This elastic cover fits your mattress perfectly and is made from special fibres that regulate humidity and keep moisture away.
2.Innovative Airgocell foam
Our breathable Airgocell foam absorbs moisture and keeps air flowing through the mattress smoothly. You'll also stay cool all night, thanks to this wonderfully temperature-regulating and open-pored foam.
3. Pressure-relieving visco-elastic memory foam
Visco-elastic memory foam contours to your body and distributes pressure evenly across the mattress. This modern marvel in the middle also ensures you sleep comfortably in any sleeping position possible.
4. Supportive HRX foam
HRX foam provides the necessary counterpressure to keep your spine aligned and support your back. It also exceptionally points elastic, so you won't feel your partner moving on the mattress.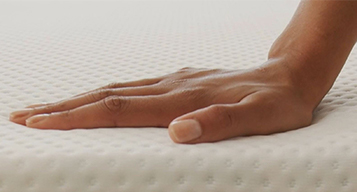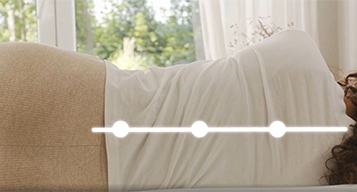 Layers of the Premium mattress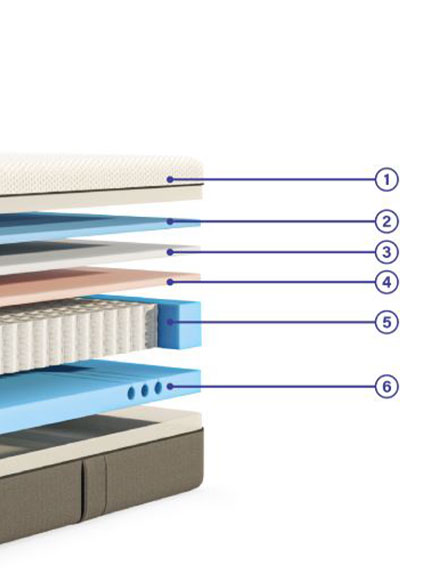 1. Emma UltraDry™ Original Cover
The Emma UltraDry™ award-winning breathable cover is both refreshing and practical. This premium temperature-regulating cover is moisture-wicking, easy to remove and washable!
2. Halo Memory Foam™
Tailored to you. Our innovative Halo Memory Foam™ adapts to your body shape for targeted spinal alignment, ultimate pressure relief and body-hugging comfort.
3.Point Elastic Airgocell®
Our groundbreaking Point Elastic Airgocell® technology enhances breathability and regulates temperature by absorbing and then evaporating sweat - so rising temperatures won't have you disturb your nights.
4. Second layer of Airgocell® Memory Foam
You know what they say, two sheets of Airgocell® are better than one. Treat yourself to an additional layer of enhanced airflow and velvet softness – with superior support for shoulders and hips.
5.5 Zone CarbonFlex™ Springs
Our ergonomic springs dynamically adapt to your body as you change sleeping positions throughout the night. Each zone is packed with hundreds of titanium coil springs to provide you with personalized support throughout the night and ensure maximum spinal alignment.
6. Emma HRX Supreme ™ Foam
Engineered to last for years, Emma HRX Supreme ™ Foam enhances durability by holding firm and preventing sag. 5 adaptive cut-outs zone distribute your body weight evenly to reduce pressure on your body. The result? Enhanced stability and support where you need it most!
Find your Award-Winning Sleep