Home delivery
In stock
Free Click + Collect
Delivery & Returns €4.99 Delivery, Free over €50
FREE Standard Delivery over €50
Get the look
Candles / Candles-General / Home Decor / Candles / bathroom
https://www.homestoreandmore.ie/air-fresheners/yankee-candle-midnight-jasmine-car-jar/056226.html?variantId=056226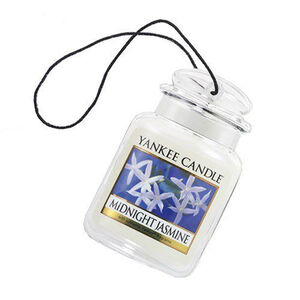 https://www.homestoreandmore.ie/air-fresheners/yankee-candle-midnight-jasmine-car-jar/056226.html?variantId=056226
€5.99
5.99
Ready in 2 hours for Click + Collect
Home delivery available
Candles / Candles-General / Home Decor / Candles / Living Room
https://www.homestoreandmore.ie/votives/yankee-candle-midnight-jasmine-votive/038558.html?variantId=038558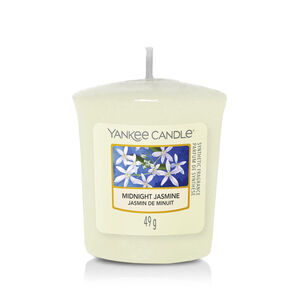 https://www.homestoreandmore.ie/votives/yankee-candle-midnight-jasmine-votive/038558.html?variantId=038558
€2.49
2.49
Ready in 2 hours for Click + Collect
Home delivery available
The Yankee Candle® Car Jar® is a small air freshener that neutralises odours and freshens your car. It lasts from two to four weeks, which is longer than any other air freshener on the market.
A seductively lush perfume of water jasmine, sweet honeysuckle, neroli, and mandarin blossom. It includes the following scents: Neroli, Orantique, Mandarin Blossom, Yellow Grapefruit, Grapefruit, Musk, and Powdery Notes throughout the initial, middle and final impression.
Enjoy the authentic Yankee Candle® smell on the go, in your car, or even in small spaces! With a single Car Jar®, simply hang where desired and you're good to go!
Features
Midnight Jasmine

Yankee Candle

2-4 weeks of Fragrance

Neautralises Odours

Freshens
Warning - Contains the following: Geraniol, Hexyl cinnamal, Terpenes, Orange Oil, Hydroxycitronellal, Linalool, Citronellol, Citral, 2,4-Dimethyl-3-cyclohexene carboxaldehyde, Benzyl salicylate, Cyclamen aldehyde. Toxic to aquatic life with long-lasting effects. Keep out of reach of children. Can causes skin irritation. May cause an allergic skin reaction. If on skin: Wash with plenty of water. If skin irritation or rash occurs: Get medical advice/attention. Dispose of contents/containers in ac
For general information on symbols please read this file
| | |
| --- | --- |
| Dimensions: | 6.9cm x 8.1cm |
| Colour: | White |
| Weight: | 12g |
| Fragrance Time: | 2-4 Weeks |
| Brand: | Yankee Candle |