How To Make Banana Bread
Banana bread is one of the tastiest treats that you can bake in the kitchen, but did you know it is also one of the easiest? If you follow our simple banana bread recipe, you'll be showing off your delicious offerings to family and friends in no time!
Home Store + More have everything you need to get the ball rolling, you'll become a banana bread expert over night.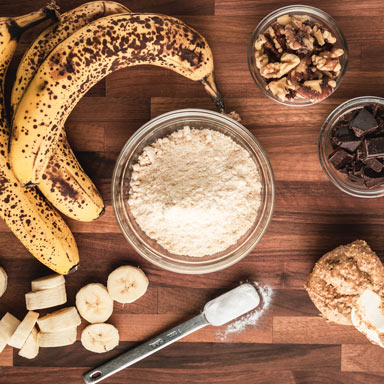 Ingredients:
-115g of Butter
-190g of Caster Sugar
-2 Large Eggs
-250g of Self-Raising Flour
-1 Teaspoon of Baking Soda
-1/2 Teaspoon of Vanilla Extract
-3 Large Bananas




What You Will Need:
-Mixing Bowl
-Medium Loaf Tin (2lbs)
-Sieve
-Handheld Mixer
-Fork (for mashing bananas)
-Metal Skewer
Banana Bread Recipe
PREP TIME: 15 mins
BAKE TIME: 50 mins
LEVEL: easy
Preheat the oven to 180°C/350°F/ Fan Oven 160°C/ Gas Mark 4
Grease a medium loaf tin
Cream the sugar and the butter in a bowl with a hand-held mixer until pale and fluffy
Add in one egg and sieve a little flour and mix through with mixer, repeat with the other egg and the rest of flour and add baking soda
Mix until everything is smooth
Peel the bananas and mash with a fork
Add mashed bananas and vanilla extract to the bowl with the other ingredients and mix gently
Pour the mix into a well-greased loaf tin and place in the oven for approximately 50 minutes
After 25 minutes, you may want to cover with tinfoil to stop the top browning too much (only do this step if necessary)
To check the bread is ready, insert a metal skewer into the centre of the loaf. If the skewer comes out clean, your bread is ready. If not, leave in the oven for a further few minutes, checking at regular intervals
Remove the loaf from the tin and leave on a wire rack to cool
Cut yourself a slice & enjoy while still slightly warm!
TOP TIP: Keep in mind, you can add some chocolate chips or, if you're looking for a healthier option, you can also add sultanas! However, if you follow the basics below, you can be sure that you won't go wrong!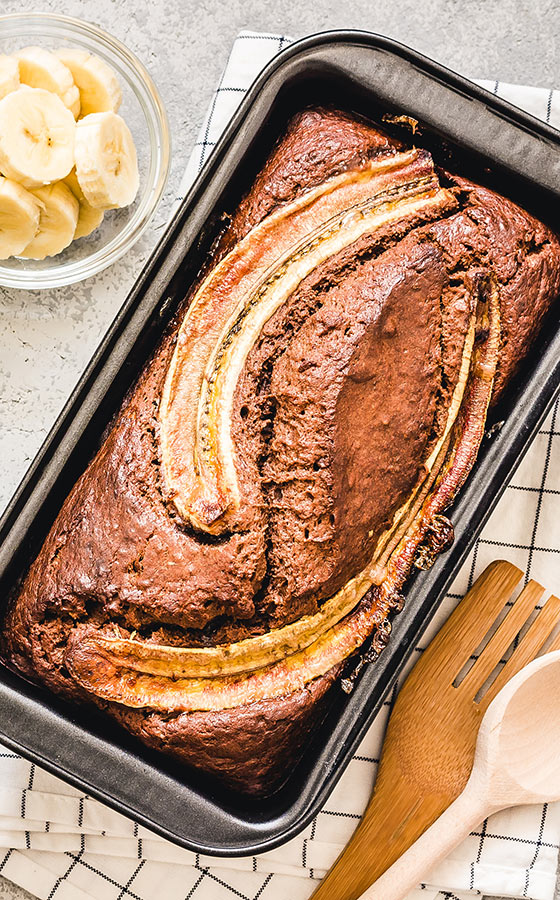 Is Banana Bread Healthy ?
Kind of, you can make it healthier by choosing alternative ingredients. For example- use wholewheat flour as opposed to self raising flour!
Can you make banana bread without sugar?
Yes! Just replace the sugar with 1/2 cup of honey and mix with the wet ingredients. This may change the consistency but it'll still be delicious!
Can you make banana bread into muffins?
Yes! Add the mixture into muffin/cupcake cases and bake in a cupcake tin as opposed to the loaf tin.
Can I use oil instead of butter when making banana bread?
Yes! You can use cold-pressed sunflower oil (75g/1/3 cup) or if you prefer a vegan alternative use coconut oil (75g/1/3 cup & melted).
How do you keep banana bread moist?
The key is to keep your banana bread wrapped in plastic wrap and store an airtight container. Another option is to keep it in paper towels in an airtight container.
Can dogs eat banana bread?
Yes! However we only recommend home made ones - not store bought ones. Also, avoid feeding it to your dog if it contains any sort of nuts. Give in small quantities.