Home delivery
In stock
Free Click + Collect
Delivery & Returns €4.99 Delivery, Free over €50
FREE Standard Delivery over €50
More Sizes
Seasonal / Barbecue & Chimenea / Barbecue Covers
https://www.homestoreandmore.ie/bbq-covers/premium-lightweight-2%2F3-burner-gas-bbq-cover/122907.html?variantId=122907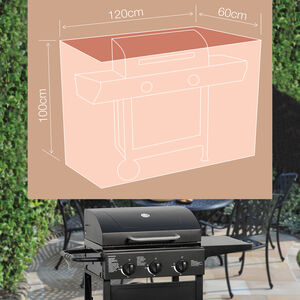 https://www.homestoreandmore.ie/bbq-covers/premium-lightweight-2%2F3-burner-gas-bbq-cover/122907.html?variantId=122907
€34.99
34.99
Ready in 2 hours for Click + Collect
Home delivery available
Seasonal / Barbecue & Chimenea / Barbecue Covers
https://www.homestoreandmore.ie/bbq-covers/premium-lightweight-6-burner-gas-bbq-cover/114253.html?variantId=114253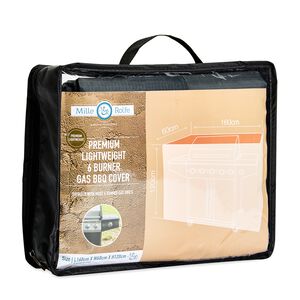 https://www.homestoreandmore.ie/bbq-covers/premium-lightweight-6-burner-gas-bbq-cover/114253.html?variantId=114253
€39.99
39.99
Ready in 2 hours for Click + Collect
Home delivery available
Protect your four/five-burner Gas BBQ with this top-quality waterproof barbecue cover. This BBQ cover is made of PVC-backed polyester, which has been treated to prevent UV damage. This reduces the chance of your BBQ getting damaged when exposed to the sun.
This lightweight BBQ cover is waterproof and weatherproof, protecting your BBQ against adverse weather conditions. Rain can cause your BBQ to rust, so using this cover will reduce the risk.
This barbecue cover is easy to clean due to its' PVC material, making it low maintenance. It has a round drawstring that allows you to cinch the string and ensure your barbecue cover is placed nicely and tight around the barbecue to protect it. The bottom of the barbecue cover has cord locks which will add extra security.
Features
Waterproof cover

PVC

Protects against UV

Reduces rusting risk

Lightweight

Waterproof & weatherproof

Easy to clean

Drawstring design

Security cord locks
| | |
| --- | --- |
| Material: | PVC & Polyester |
| Suitable for: | 4/5 Burner Gas BBQ |
| Dimensions: | 150cm (L) x 60(W) x (H) 105cm |