Get to know your Air Fryer
How is air frying different from baking in an oven?
Air fryers use rapid air technology instead of an element or gas. This helps the air fryer heat much quicker than an oven (not to mention the air fryer is considerably smaller); this cuts out long pre-heating times. The small size dispreses the heat more evenly, crisping up the food without hot spots.
Which method is healthier?
With the air fryer, you don't need to use any oil at all! That's because the unit heats up to higher temperatures so it's hot enough to crisp your food without any extra oil.
With this being said, if little or no oil is being added to the dishes that you're making in an air fryer, are equally as healthy as if you would have baked them.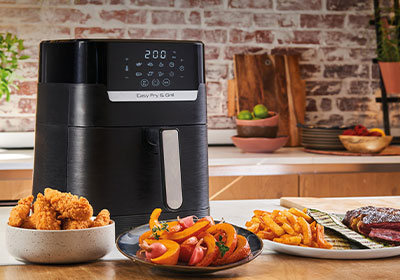 What can you cook in an air fryer?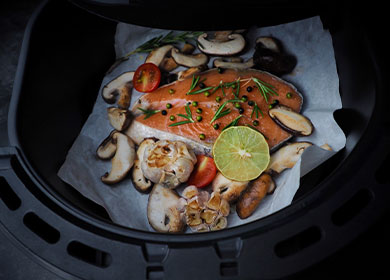 Air fryers are extremely versatile, allowing you to cook a range of foods from air fried chicken, roasted vegetables, doughnuts, fish, chips etc. From Sunday dinners to delicious desserts it can handle many dishes.
Many air fryers go beyond just air frying delicious crispy food and can be used for reheating, baking, roasting, dehydrating and grilling, which allows you to cook entire meals with just an air fryer.
Are Air Fryers Healthy?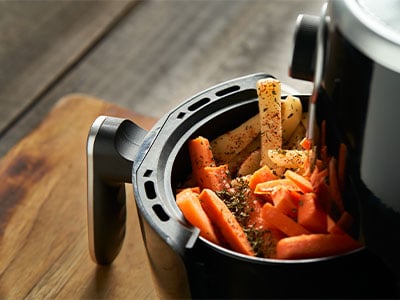 When comparing air fryers to conventional deep fat fryers or pan-fried food air fryers are the healthier option. This is due to the lack of oil, which reduces the calories by up to 80% and has a lot less fat.
Air frying has also proved to cut down some other harmful effects of frying in oil, such as the production of chemical acrylamide, which occurs when frying starchy foods such as potatoes. Air frying has been proven to reduce acrylamide in air fried potatoes by up to 90%.
How to clean an air fryer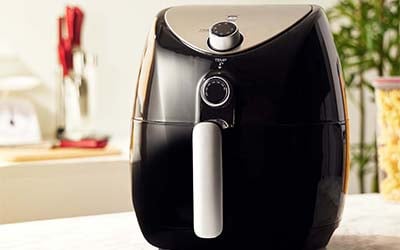 You should clean your air fryer after every use to avoid food residue hardening and becoming a nightmare to remove.
Firstly, unplug your air fryer and clean the removable parts with warm soapy water using a soft sponge or non-abrasive cloth.
Secondly, clean the inside of your air fryer with a damp cloth soaked in warm soapy water. Dry the components and the inside of the air fryer and then re-assemble.
Lastly, wipe the exterior of the air fryer with a damp sponge or cloth and dry. Mow your air fryer should be sparkling and ready to air fry some delicious food.