Sweet, Sticky & Smokey BBQ RIBS
Learning how to cook ribs on the grill may take a little time and patience, but the process couldn't be easier! Whether you opt for a charcoal grill or a gas grill, cook these spice-rubbed ribs over indirect heat for a little over an hour before finishing them off over the flames!
INGREDIENTS : Spice Rub
¼ cup light brown sugar
2 tbsp. smoked paprika
1 ½ tsp. onion powder
1 ½ tsp. garlic powder
1 ½ tsp. kosher salt
1 tsp. black pepper
½ tsp. cayenne pepper (optional)
INGREDIENTS : Grilled Ribs
2 racks of baby backed ribs (about 5/6 pounds total)
3 tbsp. vegetable oil, plus more for oiling the BBQ
½ cup of chicken stock
¼ cup apple cider vinegar
1 ½ cups of BBQ sauce

Complete this delicious recipe by serving it up with some delicious buttery corn on the cob. Check out our recipe to make the perfect BBQ or baked corn on the cob in 3 easy steps !
Here'e a shoppable list of the equipment and utensils you'll need to make this yummy dish !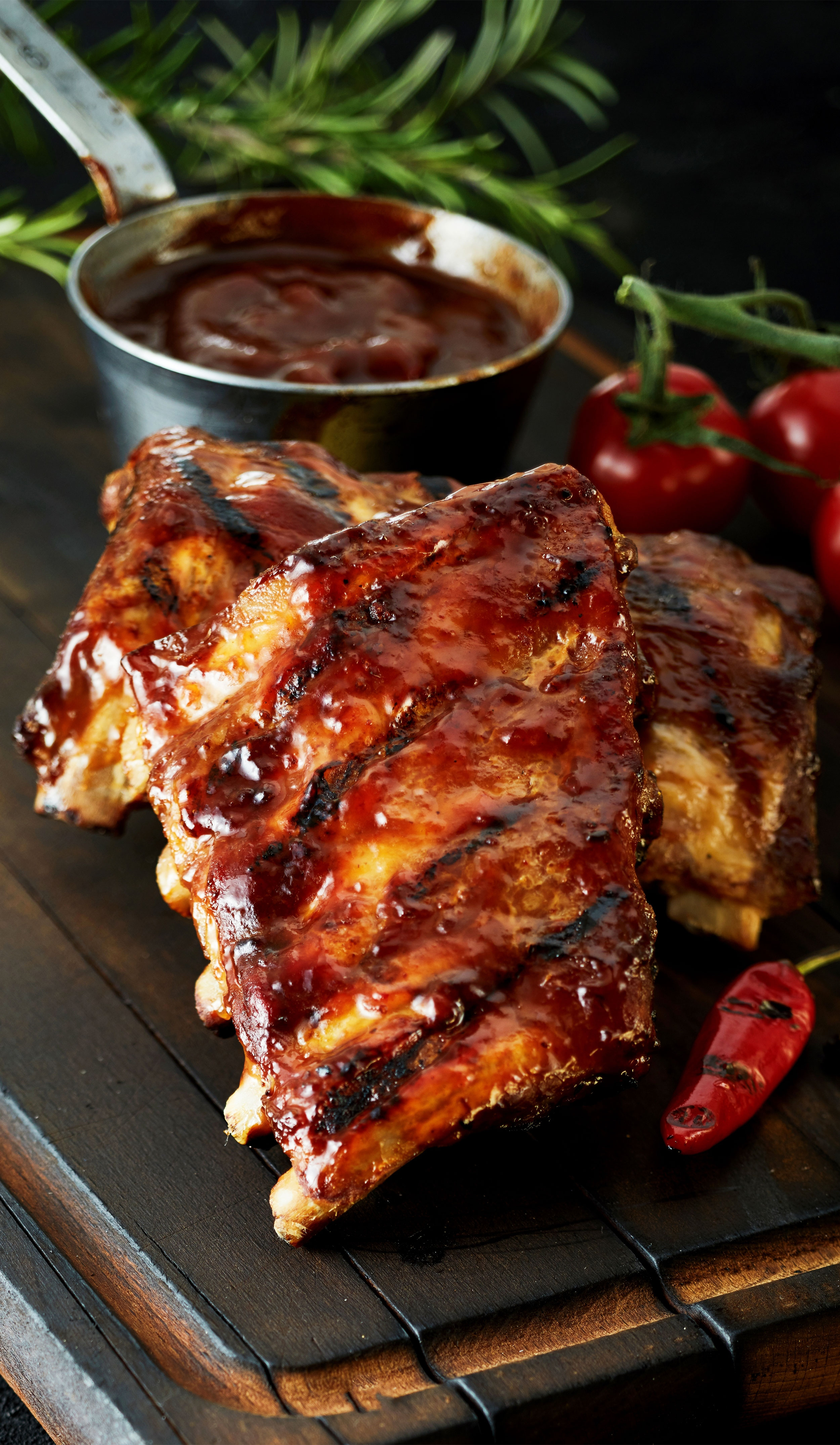 METHOD:
Level: Hard
BBQ Time: 80-90 minx (approx.)

1. Preheat a grill (charcoal or gas) to 300˚, with the coals or flames only under one half of the grill.
2. For the spice rub: In a small bowl, mix the brown sugar, smoked paprika, onion powder, garlic powder, salt, black pepper, and cayenne (if using) to combine.
3. Place the rack of ribs on a large sheet tray and remove the membrane from the underside of the ribs. Rub the vegetable oil all over both sides of the ribs, then sprinkle evenly with the spice rub.
4. Place the ribs on the sheet tray, with the curves of the bones facing down. Add the chicken stock and vinegar to the tray. Wrap the tray tightly with aluminium foil and place on the grill over the side with no coals/flame. Cook over indirect heat until the internal temperature of the ribs reads 180˚ to 190˚, about 80 to 90 minutes.
5. Increase the grill temperature to 375˚ and oil the grill grates well. Transfer the ribs directly over the grill grates and brush the tops with the BBQ sauce. Cover and cook for 5 minutes. Carefully turn the ribs over and baste the other side with the BBQ sauce. Cover again and cook for an additional 5 minutes. Continue basting and turning the ribs until the BBQ sauce has created a sticky coating and the ribs are charred in spots, 10 to 20 minutes longer.
6. Transfer the ribs to a cutting board, cut into pieces, serve & Enjoy !
SHOP OUR BBQ RANGE + MORE