The Ultimate Guide to packing your perfect Beach Picnic!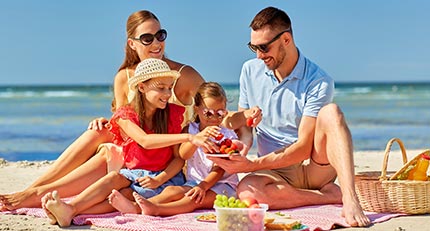 Whether you are planning a long day trip to the beach and need something to nibble on or have a dedicated beach picnic in mind, beach picnics take some consideration and good planning.
If you're planning a for a long haul, a cooler is a necessity! Start out by lining the bottom of your cooler with ice blocks or reusable freezer packs. Pack ice cream and ice pops at the very bottom and stack another layer of reusable ice packs to avoid them from melting.
WHAT FOOD TO PACK ?
-Stick to pre-prepared food, the last thing you want at the beach is to be putting together your dishes.
-Stick to pre-made sandwiches and salads (leave the dressing off).
-Remember to cut your cheeses, fruits & vegetables beforehand.
-Try to avoid any perishable food from the heat. Food such as sushi or smoked salmon is not ideal.
-Attempt to avoid uncooked meats unless you are having a BBQ - make sure you keep the meat well cooled until cooking time. If you are snacking throughout the day, remember to return packets to the cooler – no one wants to have melted chocolate bars !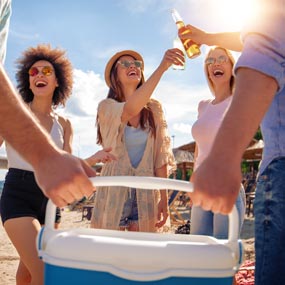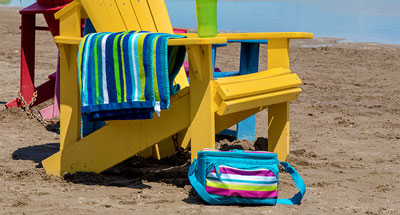 TOP TIP !
Store your cooler under the table or in the shade to preserve the temperature of your cooler for as long as possible.
TOP TIP 2!
Freeze water bottles before leaving the house, then remove the from the cooler and thaw throughout the day as needed.