Absolute Essentials
-Travel Documents
-Purse or Wallet
-Phone, Tablet & Kindle
-Plug Adaptors
-Antibacterial Hand Gel
-Clear Sealable Bag for Liquids
-Tooth Brush & Toothpaste
-Neck Pillow & Eyemask
For the Heat
-Sun Cream
-Bug Spray
-Sun Glasses & Hat
-Beach Bag & Towel
-First Aid Kit
-Aftersun
-Toiletries
Extras
-Travel Organiser & Laundry Bags
-Digital Camera
-Head or Earphones
-Portable Phone Charger
-Books & Magazines
-Travel Snacks
-Pocket Size Toys & Games
Deciding what to bring on holidays can be a daunting task, but it doesn't need to be. It is difficult to remember everything, resulting in forgetting items or spending unnecessary money. Use our packing checklist and guide to take the hassle out of travelling abroad or staycationing this summertime!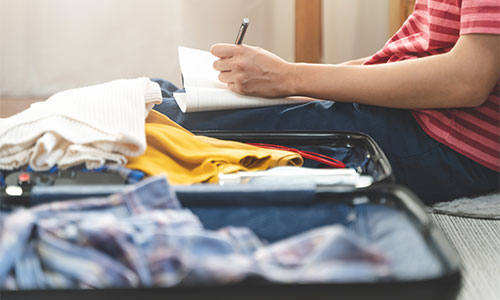 We have a wide range of travel accessories to cater to any of your ventures this summer. Pick up what best suits your trip!
How to Pack a Suitcase
1.Narrowing Down: Limit clothes down depending on how many days you travel. Lay it out and get rid of similar styles.
2.Arrange Clothes With a Packing Technique: Consider rolling, folding or bundling technique. Place items most used on top to prevent mess when retrieving an item.
3.Pack Wrinkle-Resistant Fabric: If possible, avoid packing anything made from fabric like linen or rayon, which wrinkle easy.
4.Keep Clothes in Place With Laundry Bags: Keeping clothing in place will allow room for other items.
5.Fill Your Shoes With Smaller Items: Shoes can easily fit small items and valuables like chargers, glasses or socks.
6.Wrap Clothes Around Breakables: Fragile items risk breaking if bouncing around loosely. Consider even holding in your carry-on.
Shop our Summer Essentials