Tips & Ideas For Setting The Table This Christmas
Gather the whole family & friends together for that all-important Christmas dinner. Create fabulous Christmas memories that will last a lifetime.
Of course, you have to set that festive mood with a beautifully considered Christmas table setting. We've got everything you need to create a memorable display.
1. Style
Consider what style your home is and choose pieces and colours that will incorporate well into the setting. For example, if you have a modern home, choose clean and simple designs, with muted tones and colours.
If you have a traditional home choose traditional styles with colours such as red, green and gold. For a country home, chose rustic pieces with earthy tones.
Maybe you have young children then consider incorporating colour and fun prints for a little bit of magic. We went with a warm red, silver and gold theme, which is more of a traditional theme.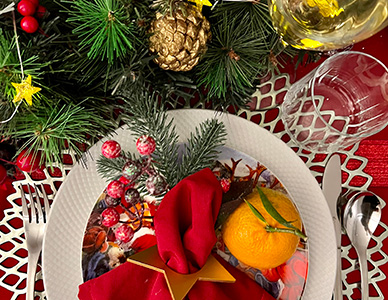 2. Table Linen
A great way to start the search for your festive table linen. Mixing plain tablecloths with pattern napkins or the opposite also works. We would not recommend mixing patterns unless you really know what you are doing.
Choose Plaid and Damask patterns for more traditional homes and Paisley and Mariseilles prints for more modern homes.
3. Layering dinnerware
Want to make a statement with your place settings? Achieve this by mixing and matching dinnerware!
Determining a design for your table that is fresh and unique is not always easy. For example, layer our Santa and Sleigh Dining Set with a simpler design like our Abney & Croft Embossed Linear Dining Set.
For a sophisticated look layer textures like our Heritage Dinnerware sets.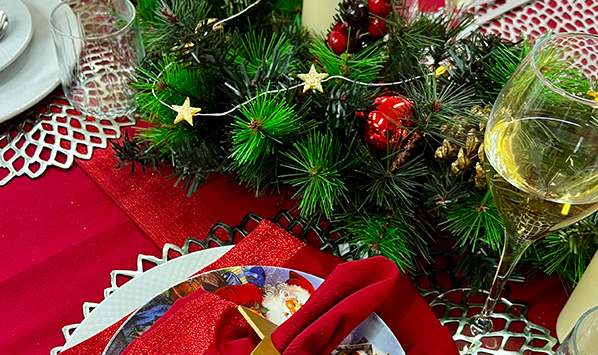 4. Creating a centrepiece Garland Runner
Creating a beautiful centrepiece doesn't need to break the bank. This no-fuss garland runner with white candles, combined with baubles and pine cones is the perfect way to decorate your table for the holidays without spending too much time or money!