Towels Buying Guide
There is something very comforting about wrapping up in a fluffy, luxurious towel after a hot a shower or bath. From bath-time pampering towels to the practical hand towel you use every day, soft, absorbent and durable towels are an everyday home essential. When buying new towels, there are a few things you will need to consider. We have put together this expert guide to help you choose the right towels for you.
1. Towel Fabrics:
Fabric is a very important consideration when buying new towels. All our towels are made from 100% cotton. Cotton is the best and most popular fibre for making towels because it's absorbent, naturally breathable, soft and fluffy – everything you need in a good towel.
There are also different kinds of cotton towelling, each more suitable for different uses. We recommend buying zero twist cotton towels as they are both plush and practical, making them ideal for most purposes.
What is Zero Twist Cotton?
Zero Twist is a method where yarn is spun with a low amount of twist. Towels made with Zero twist technology feel extraordinarily soft and fluffy, while providing a shorter drying time. These towels are also lightweight, absorbent and durable, making them ideal for both guest bathrooms and everyday use. Check out our range of zero twist towels here.
What is Combed Cotton?
Combed cotton is softer and of a higher quality than other cottons. First the cotton is carefully harvested and cleaned and then it is combed. The cotton is combed using fine, combing brushes which pull out the shorter fibres and impurities. The remaining cotton fibres are the longest and straightest ones, and once woven, produce a much smoother and higher quality fabric. After combing, the straightened fibres join together more tightly leading to less fraying and unravelling making combed cotton towels a luxurious option for your home. Shop our range of combed cotton towels here.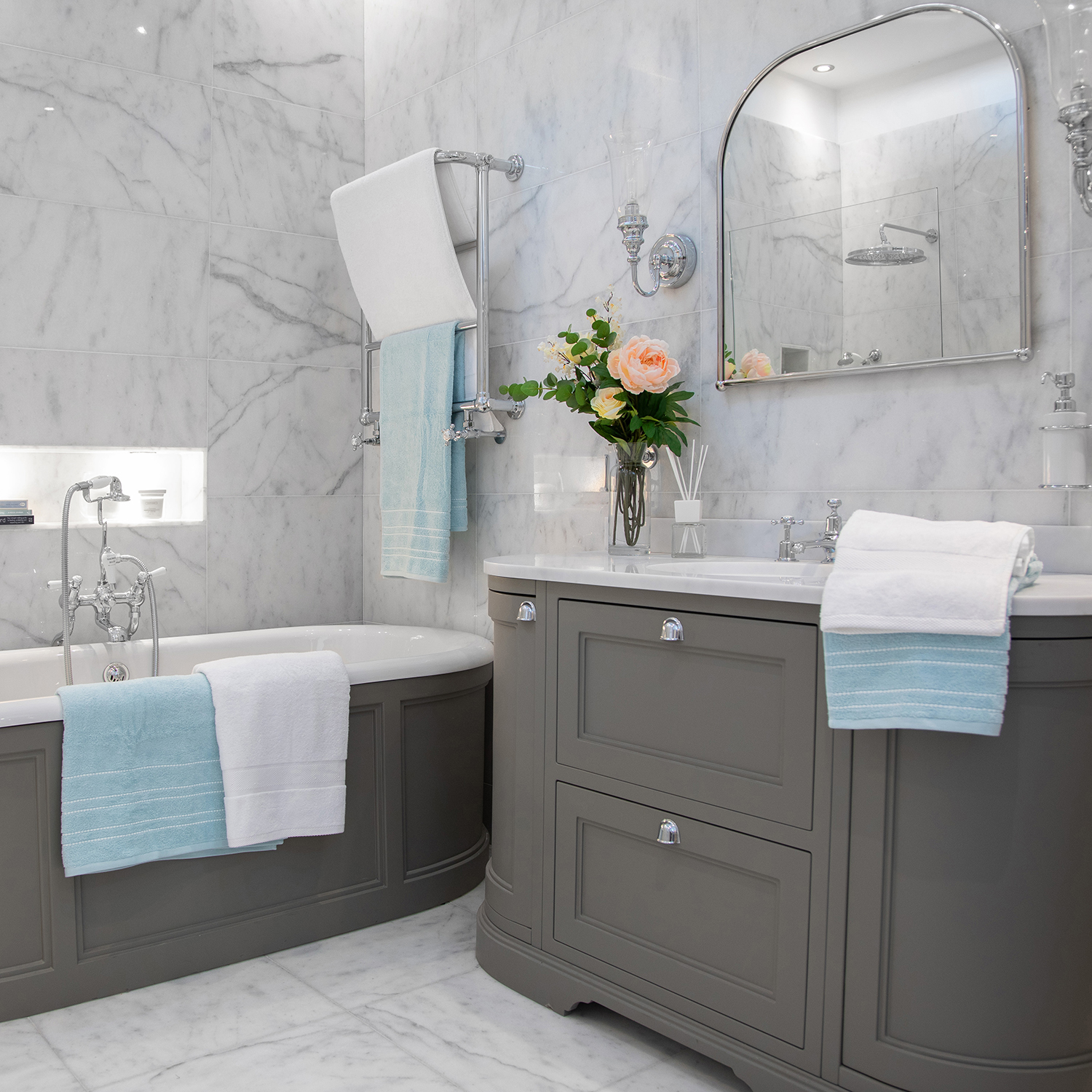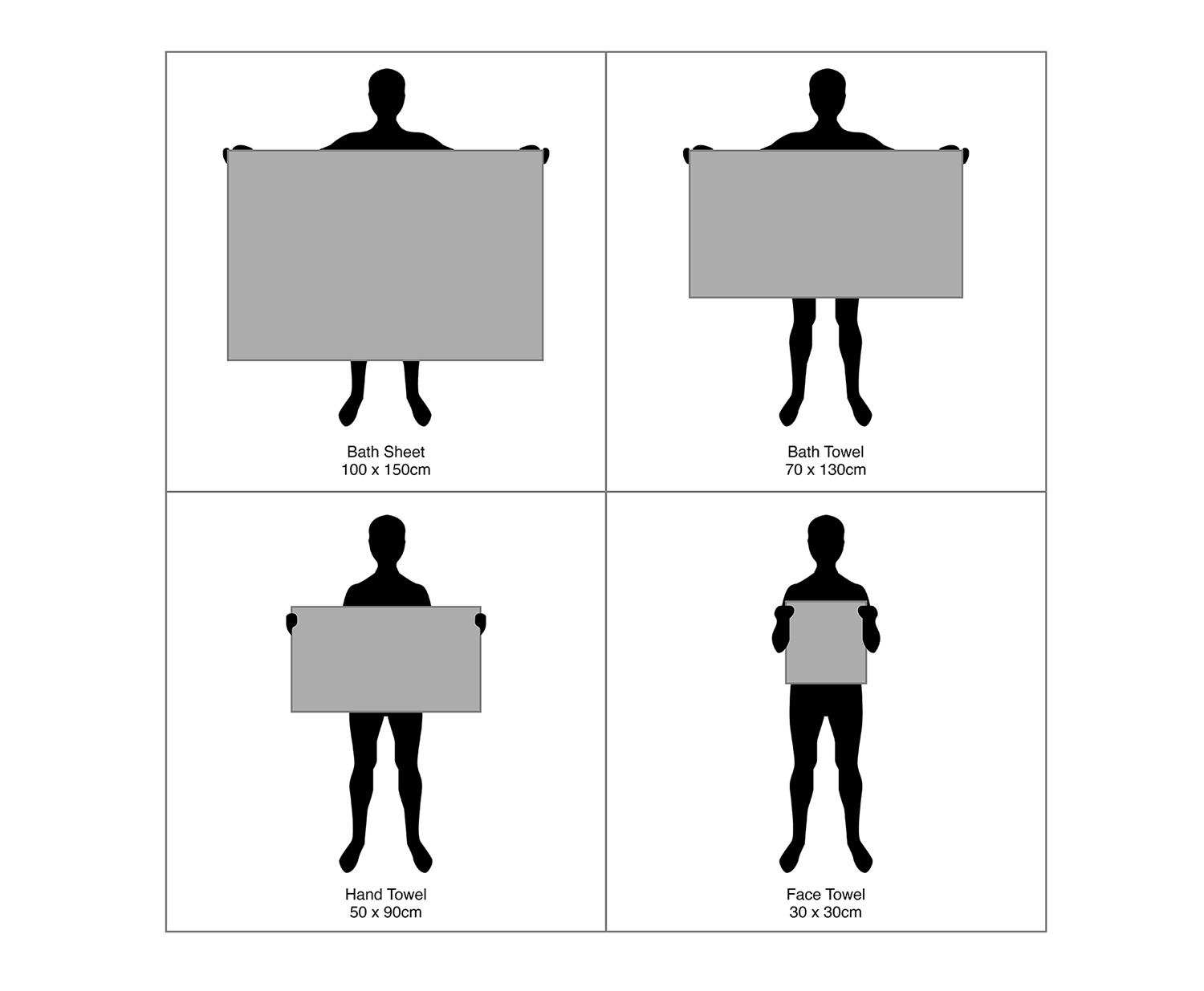 2. Towel Sizes
It is a good idea to buy towels in different sizes in order to meet all your household needs. Bath towels and hand towels are the most commonly used in the home, but you may also want face towels for washing and bath sheets for some extra comfort after a shower. All our towels are part of matching sets, so you can easily buy everything you need in the same colour and style.
The following are the approximate dimensions for these 4 kinds of towels:
Face Towel (30cm x 30cm)
Also called a face cloth or flannel. Used for cleansing your face as well as washing your body in the shower.
Hand Towel (50cm x 90cm)
The most practical towel you will own. Used for drying your hands, bringing to the gym or drying wet hair.
Bath Towel (70cm x 130cm)
An essential item for your bathroom. Used every day after your bath or shower.
Bath Sheet (100cm x 150cm)
Longer and wider than a bath towel. Perfect for wrapping yourself up after a hot shower or relaxing bath.
3. Towel Weights
Weight is another thing to consider when choosing a towel. Different weights will be suitable for different tasks.
The weight of a towel is measured by the gsm (Grams per Square Metre). The higher the gsm, the thicker, heavier and more absorbent your towel will be. When deciding what gsm is right for you, consider what the towel's purpose will be and how often it will be used. Use this breakdown of towel weights to help you:
Lightweight – up to 350gsm
Lightweight towels are thinner, lighter and generally not as soft as towels with a higher gsm. These towels are ideal for busy areas of your home because they are quick to wash and dry. For example, a hand towel with a low gsm would be perfect for everyday use in the kitchen. Because they fold easily and dry quickly, these towels are also great for taking on the go – the perfect gym or beach towel!


Medium weight – 400-600gsm
Most of our towels are medium weight, the general standard for everyday household towels. They are just as absorbent and durable as higher gsm towels but aren't as heavy or dense. This makes them lighter, cooler and faster drying. If you have a large, busy household that goes through several towels a week, then this is the perfect towel for you.


Heavy weight – 700-900gsm
These towels are the softest and most luxurious. They are also very absorbent, heavy and warm. Although they are little more expensive, they are long-lasting. Because these towels are slow drying, they are more ideal for wrapping up in to relax and pamper yourself after a hot shower or bath. Explore our selection of half price heavy weight towels and make your own bathroom feel like a spa!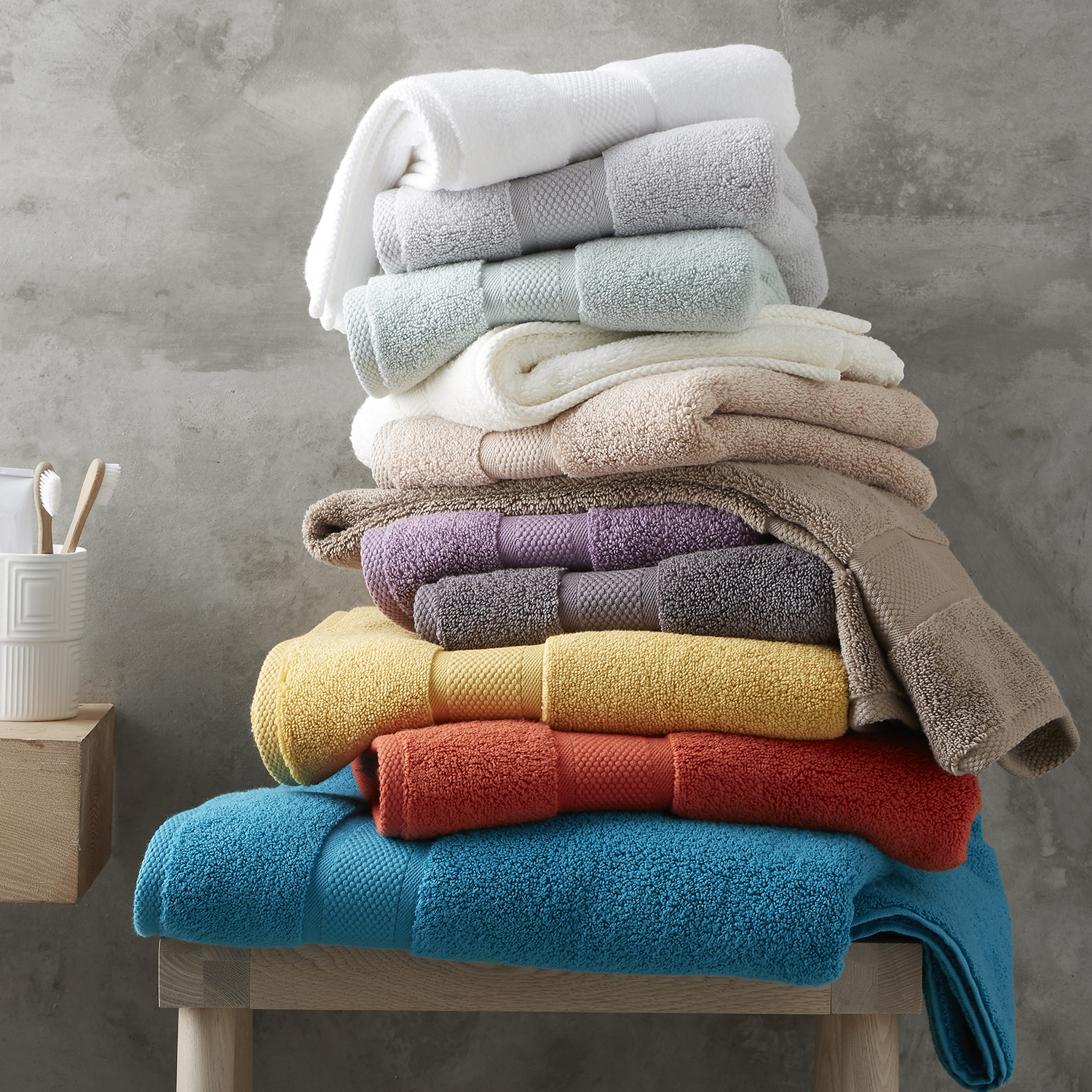 4. The Final Decision
With towel fabrics, sizes and weights now in mind, think about where you will be using your towels and what you will be using them for when making your final choice. You might want to buy a set of luxurious, heavyweight towels with a bath sheet for the guest bathroom, and something more hard wearing and quick-drying for your main bathroom.
Your interior design style will also affect your decision when buying towels. Towels can add the warm, finishing touch to a bathroom. Consider selecting a stack in a fun accent colour or pattern. All of our towels are available in a vast selection of colours to suit every style of bathroom.
Spend as much as you can afford, as higher quality towels will last longer and wear well. Some cheaper towels may feel very soft, but this is often down to the manufacturer adding a softener to make them seem plusher. This softness will start to decline after a few washes.
Not sure how many of each towel you need? Follow this useful guide:
• 2 x bath sheets, bath towels and face cloths per family member
• 2 x hand towels per bathroom
• 2 x bath sheets, bath towels and face cloths per guest bedroom
This way, you will always have a set to use and a spare set available for when the other is in the wash.

5. Towel Care
Everyday Care
The best way to make your towels last longer is to take proper care of them. Stains and pulling are the two main threats to towel longevity. Keep your household towels away from cleaning products that contain bleach to prevent staining. Skin treatments, such as benzoyl peroxide for acne, can also leave permanent marks on towels.
If a towel gets caught or pulled, it will not unravel - simply cut off the pulled loop. Problem solved!
Washing and Drying
Before using your towels, wash them once to help set their colour, improve absorbency and reduce any lint. Group coloured towels together and wash on a medium heat with a colour boosting washing powder. Also, avoid using fabric softeners, since they can leave residue and create a stiff texture.
What's the trick to keeping your towels fluffy? Tumble drying! It's important to keep the temperature low (i.e. under 60°C) while drying to ensure extra fluffiness.
By putting a little time and energy into the selection process, you'll find practical towels that add both style and comfort to your bathroom!