Blackout Curtains Buying Guide
Introduction
Studies show that our bodies are designed to sleep when the sky is dark. When light enters the bedroom through your curtains, it can trick your brain into thinking that you are in bed in the middle of the day! This can really disrupt your sleep pattern, especially in summer when evenings are longer, and mornings are brighter. Blackout curtains or blackout linings are the perfect solution to this as they will block out any outside light, allowing you to enjoy a full night's sleep. The darker the room, the better sleep you will have.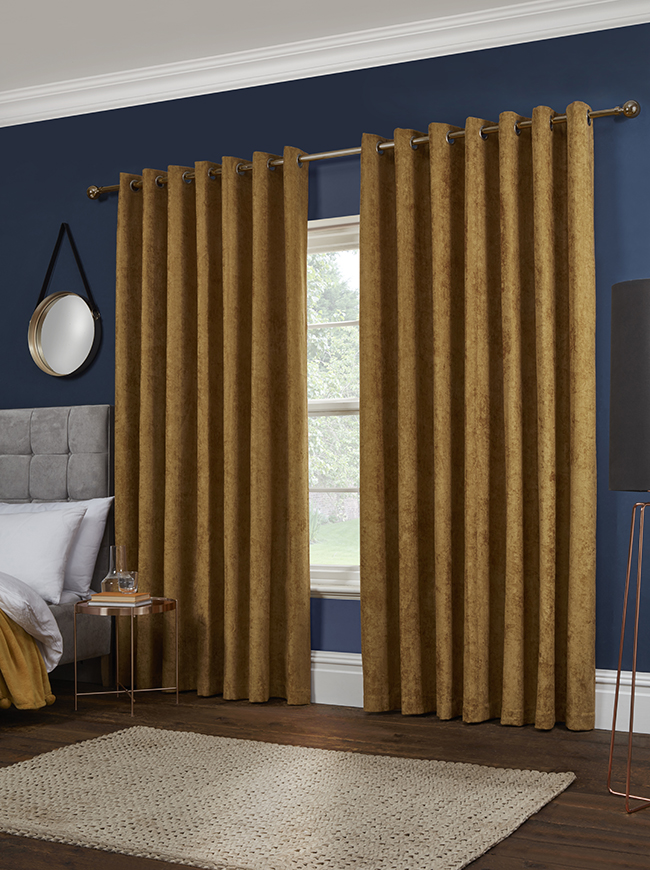 Why Buy Blackout?
Uninterrupted sleep is the number one reason why you should buy Blackout curtains. However, they are also great for reducing furniture and carpet fading caused by sunlight, making your home interiors last longer.

All of our Blackout curtains are also Thermal, which will help keep a room warm and cosy in winter and comfortably cool in summer. Made of thick, heavy materials such as cotton or polyester, these curtains prevent air and draughts from entering or escaping through the window. The thickness of the curtains can even help to reduce noise pollution and provide a greater feeling of privacy for your home.

Because these curtains are extra thick, they are very durable and long-lasting. Our selection of Blackout and Thermal curtains will serve you well for many years to come.

As well as being practical, the high-quality look of Blackout & Thermal curtains will add an element of sophistication and style to a room. When choosing curtains, select styles that complement your existing home décor, and find the right length to elevate the look of your window. You can browse our wide range of colours and styles on offer to find a set that's right for you.
What rooms should I hang my Blackout curtains in?
Rooms with the most exposure to natural sunlight, such as your living room or bedroom, are perfect locations for Blackout curtains. Hanging Blackout curtains in these rooms creates a soothing daytime ambiance, while providing total light exclusion when you need to sleep or relax. Blackout curtains are also ideal for street facing rooms, since they dampen outside noise and provide extra privacy.
Economic and health benefits of Blackout & Thermal
We all know the seasonal struggles of getting a good night's sleep on summer nights, along with the ever-increasing cost of heating our homes in the winter. As you have learned, Blackouts help you to get a peaceful night's sleep, which is essential for your general health and wellbeing. They black out early morning light when you're trying to catch those extra few winks. Their Thermal quality keeps cool air from escaping, ensuring that you're not too hot on those warm summer nights. They also reduce the level of street noise entering the room – perfect for light sleepers, night shift workers and helping young children sleep.

Homes with central heating can benefit from energy-efficient Blackout & Thermal curtain panels. In winter, these curtains keep heat inside, reducing the amount of heat needed to warm the home and saving money on utility bills.
Taking Care of Your Blackout & Thermal Curtains
When hanging in your home, your curtains are often exposed to many indoor everyday elements such as dust, dirt, animal hair and odours. Cleaning blackout curtains on a regular basis will allow your curtains to look fresh and clean creating a happy and healthy environment in your home. We have a few simple steps below for you on how to clean blackout curtains to allow them to stay in optimal condition. We recommend using a vacuum as a quick and easy way to give your blackout curtains a fast pick me up. Simply vacuum up the dust, dirt and allergens from the front and back of the panels. The dust attachment should be used in order to create an easy way to run across the curtains and get the best possible result. This can be done while the curtains are still hanging on the pole – quick and easy!

However, if your curtains need a bit more of a thorough clean, we advise to spot clean the areas with laundry soap. It is encouraged to remove the curtains from the pole and gently work on the area effected with warm water, laundry soap and a cloth. Once the spot has been gently worked on, we recommend rinsing immediately after. You can then return your curtains to the pole to dry.
Top Tip
We recommend testing a spot of the laundry soap on the curtain before gently working it into the effected area to make sure the fabric won't be compromised by the soap being used.

You should air your curtains for 24 hours before use.

Once hanging, any creases should fall out of your curtains naturally. However, if needed, blackout and thermal coated curtains can be ironed on the fabric side only using a low heat setting.
Warning
Never leave blackout & thermal curtains to soak and avoid hot water and bleach which may damage the backing and cause discolouration of the front fabric.

Do not tumble dry blackout & thermal curtains as this may damage the backing.

Due to the process used to bond the backing to the curtains, they should not be dry cleaned, to prevent damaging the backing.