Nothing compares to the comfort of jumping into bed with freshly changed bedding. But duvets can often be neglected in your home cleaning routine. It can be a daunting task, but the outcome is entirely worthwhile. This article will help you through a step-by-step process, making the job effortless!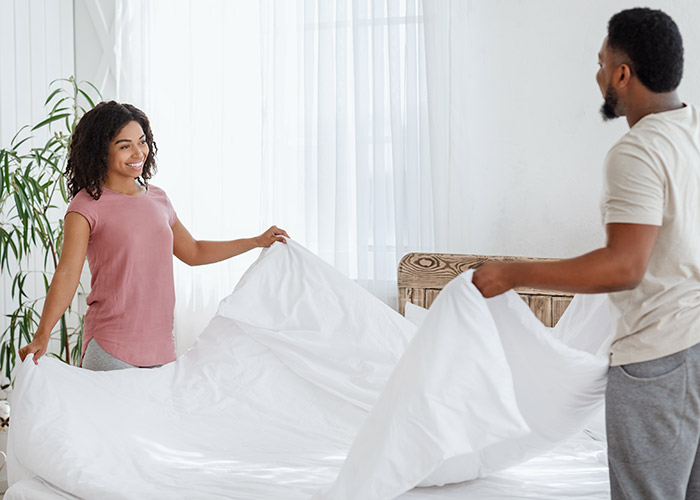 Ensure you read the label's care instructions before home-cleaning. Some duvets advise special care or professional cleaning to achieve the best results. Duvets don't need to be washed as frequently as your other bedding items, twice a year would suffice.
1) Pre-Treating Stains & Spills
To ensure you keep your bedding looking and feeling new, pre-treating stains before washing is essential. Inspect your duvet for any stains that could need a tad of attention.
2) Put Bedding in the Washer
Ensure you remove the duvet cover before putting the duvet into the machine. Spreading the bedding as much as possible within your machine will ensure effective and efficient cleaning.
3) Add Laundry Detergent
Use about half of an average load's recommended amount of soap and pour it into the machine's detergent dispenser. Avoid fabric softener and bleach as it could strip the duvet's fabric of its protective down-proof layer and prevent drying properly.
4) Set Cycle & Start
Set the machine dial to a warm, gentle cycle. If possible, include an extra rinse and spin cycle to remove any soap residue.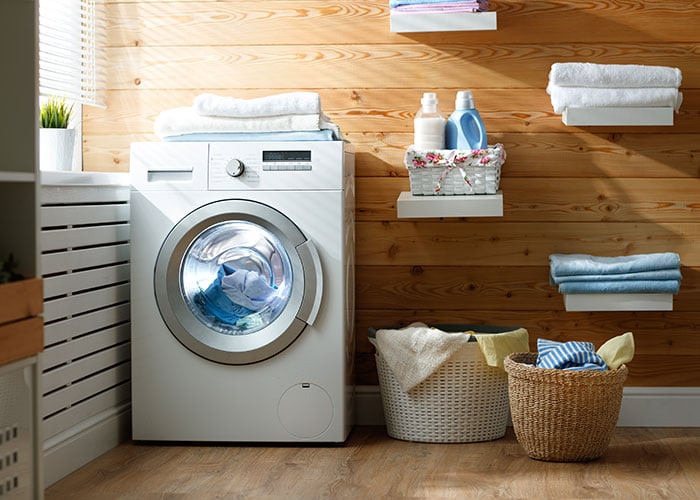 How Do I Wash a Feather or Down Duvet at Home?
1) Always read the instructions on the individual tags of the item before washing.
2) Double-check for worn stitching and minor rips, and repair with a small stitch to avoid losing any down stuffing or feathers during the laundering process.
3) Use a gentle/delicate setting and mild/non-bio detergent.
4) Choose lukewarm water, as cold or hot can be hard on the down.
5) Put two tennis balls in a sock and throw them on top of the bedding. This adds some extra agitation to remove body dirt, sweat, and oils from your duvet, as well as to keep the down from bunching.
6) Do not use fabric softener as it coats the down and damages it, leaving the duvet less fluffy.

How Do I Wash a Weighted Blanket?
1) If your blanket's weight is over 25 pounds, your household machine is probably too small for it; in this scenario, it would be best to bring it to a dry cleaner.
2) To avoid damaging your blanket material, wash it alone or with a small load.
3) Wash in a gentle cycle. An aggressive spin cycle can damage your blanket.
4) Wash your blanket in cold or warm water only.
5) Use a gentle laundry detergent that doesn't contain bleach or chlorine. The ingredients can break down the fabrics in the blanket and leave build-up.
6) Do not use fabric softener; it can cause the blanket to feel itchy after use and clump the filler together.