How To Make Spicy Chicken & Avocado Wraps
You can't go wrong with gourmet wraps to snack on while at work. Forget the traditional ham and cheese and impress your picnic guests with these tasty chicken wraps!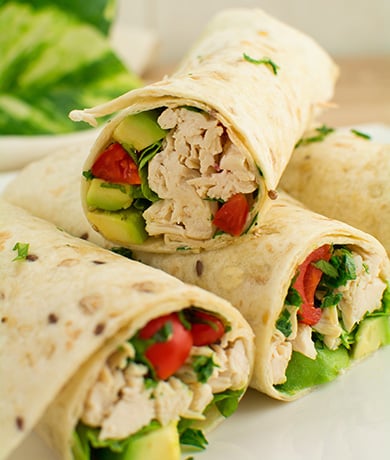 INGREDIENTS (Serves 2)
· 1 chicken breast (approx 180g)
· generous squeeze juice 0.5 lime
· ½ tsp mild chilli powder
· 1 garlic clove, chopped
· 1 tsp olive oil
· 2 seeded wraps
· 1 avocado, halved and stoned
· 1 roasted red pepper from a jar
· a few sprigs of coriander, chopped
Macros: (1 Serving)
KCALS: 403
CARBS: 32g
PROTEIN: 29g
SUGAR: 2g
FAT: 16g
FIBRE: 5g
Method
Prep Time: 15 mins approx.
STEP 1
Grab a chopping board and knife and chop up the chicken breast into thin slices, along with the garlic – wash the chopping board and knife thoroughly afterwards!
STEP 2
Using your hands, mix the chicken with the lime juice, chilli powder and garlic into a mixing bowl.
STEP 3
Heat the oil in a non-stick frying pan then fry the chicken for a couple of mins – it will cook very quickly so keep an eye on it.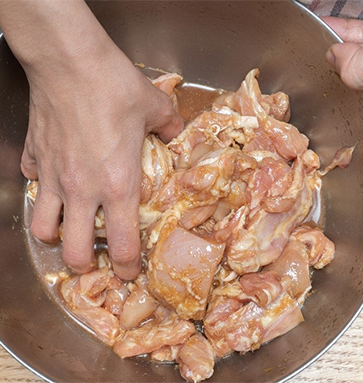 STEP 4
Meanwhile, preheat the oven and place wraps on a baking tray for a couple of minutes. Do not let them dry out or they are difficult to roll.
STEP 5
Grab the chopping board and knife and chop the avocado in half.
STEP 6
Using an avocado tool squash half an avocado onto each wrap.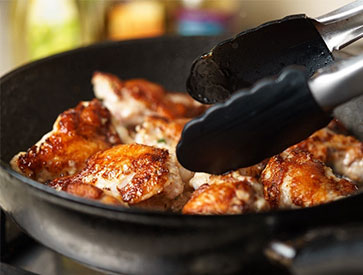 STEP 7
Chop the peppers and add to the pan to warm them through then pile onto the wraps with the chicken.
STEP 8
Chop up the coriander and sprinkle into the wraps.
STEP 9
Roll up, cut in half, and eat with your fingers.