Get Your Garden Summer Ready
Are you ready to entertain outdoors this Summer?
Are you looking forward to getting the most out of your garden this summer? Have you got the patio set, BBQ, swing chair, gazebo, etc? There is simply nothing better than spending the long evenings lounging outside with friends and family, having BBQs, or maybe just reading a book in the sun on a lazy afternoon.
Get your garden ready with Home Store + More
No matter what it is that you're looking for, there is a range of BBQs and Garden Furniture options to suit everyone. Whether you have a small deck/patio area perfect for a 3 piece furniture set or a larger area which could take a 7 piece furniture set we have a wide range available - shop our garden furniture sets now!
Top Tip:
Before you decide on what you need, the best thing to do is measure out the space that you're working with. Get all the dimensions of your patio or deck area so that you will have a good idea of how the furniture will look when you have popped it into the place.
Tight on Space ?
We have the perfect sets for small to medium size patio/deck areas that allow you to dine alfresco this summer or simply sip and enjoy your morning coffee.
The Diamond Mosaic 3 and 5 Piece Sets, the Bari Glass-Top Round Patio Set or the Elsa 4 piece Rattan Lounger Set, there'll be a size/shape to suit your needs.
And everyone needs some 'me time'! Even if you have a smaller area in your garden but still want to maximise your time in the sun. Our Valentina Egg Chair is fantastic for when you have a moment to yourself to relax outside. The combination of the comfortable cushions and sturdy rattan-effect frame will create a cosy little haven for when you are reading or sunbathing. You could also pull this up to one of our other furniture sets as an extra seating option if needed. No doubt everyone would 'want a turn'!
OUR RECOMMENDATIONS FOR YOU
Entertain & Dine in Style this Summer!
As mentioned, no matter what it is that you're looking for, there is an option to suit everyone, from round sets, to rectangular sets, to cube sets, to sofa sets, to corner sets....we have it all!
If you're looking for a beautiful piece that will comfortably fit four around the table, then a beautiful option is our Vicenza 5 Piece Rattan Cube Set. The glass-top table is perfect for enjoying meals on, and is easy to clean. Ideally designed, when not in use, the chairs fit neatly underneath the table to create a tidy, cube shape that will seamlessly compliment your garden décor.
Comfortably fit the whole family around the table in style with our Mazara 6 Piece Rattan Sofa Set. Sure to add a touch of elegance to any garden, guests to your home will enjoy relaxing on the soft cushions that are included on the 3-seater sofa, 2 single chairs and 2 ottomans. Whether you're entertaining your very own summer party or just having a casual outdoors meal with the family, everyone can gather around when eating.
You might have a corner in your garden that catches the sun really well on warm days. If so, our Messina Rattan Corner Sofa Set is just the thing for you! It includes two adjacent 2-seater sofas with a stunning table that is ideal when enjoying your beverages in the sunshine. You will also find a unique storage box which comes in handy to keep your garden looking neat and tidy. We all know that the evenings can get chilly in Ireland, the storage box is ideal for loading up on extra cushions or some cosy throws to wrap up in. If you are obsessed with gardening, you might find that it's the perfect place for small tool storage if space is limited in your shed. Either way, the Messina provides but form and function all season long!

Go On - Treat Yourself!
If you have a larger space in your garden and are looking to go all out this summer, then our Avola 6 Piece Corner Sofa Set & Firepit is a winner. You will have no problem at all hosting gatherings with its impressive seating capacity. A comfortable 3-seater corner hugs around two 2-seater sofas. Accompanied by two other, free-standing benches, your guests will be in awe while relaxing on luxurious, machine washable cushions. If that wasn't enough, the gas firepit will keep everyone toasty late into the evening so there is no need to retreat indoors.
Swing into Summer!
Alternatively, you might find that one of our Swing Chairs is more your style. Again, this take up less space than our furniture sets but are an equally enjoyable way to soak in some rays during summer as you gently rock back and forth.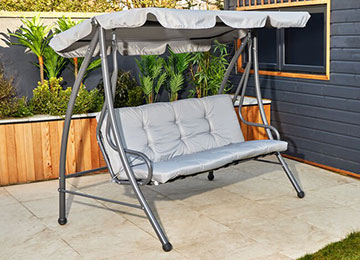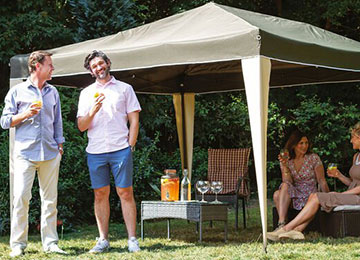 We've got you covered!
A great item to have on hand is the Pop-Up Gazebo! Perfect to act as shading on those really sunny summer days and gives you some cover and privacy to your evening parties. Otherwise you will have all the neighbours knocking in!
BBQ BLISS
Nothing beats the smell of a BBQ on warm Summer day. Make sure you have the BBQ that will cater for your summer entertaining needs. We have charcoal bbqs for that authentic charcoal bbq smell and flavour and a range of gas bbqs, 3 to 6 burner (depending on how many people you are cooking for) which allow you regulate the heat and produce quality bbq'd food every time.
Garden Lights, Decor & More
Protect & Maintain Your Garden Furniture