Home delivery
Currently unavailable
Free Click + Collect
Currently unavailable
Delivery & Returns €4.99 Delivery, Free over €50
FREE Standard Delivery over €50
Shop Our Range
Home Décor / Floor Décor / Door Mats
https://www.homestoreandmore.ie/door-mats/welcome-colour-block-door-mat-40cm-x-70cm/138473.html?variantId=138473
https://www.homestoreandmore.ie/door-mats/welcome-colour-block-door-mat-40cm-x-70cm/138473.html?variantId=138473
Now €4.99
€9.99
4.99
Currently unavailable for Click + Collect
Home delivery available
Home Décor / Floor Décor / Door Mats
https://www.homestoreandmore.ie/door-mats/autumn-leaves-door-mat-40cm-x-70cm/138476.html?variantId=138476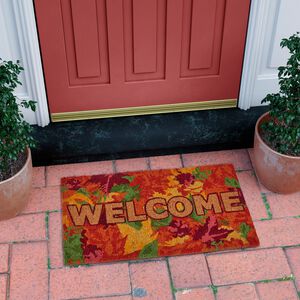 https://www.homestoreandmore.ie/door-mats/autumn-leaves-door-mat-40cm-x-70cm/138476.html?variantId=138476
Now €4.99
€9.99
4.99
Currently unavailable for Click + Collect
Unavailable for Home Delivery
This Welcome Bloom Door Mat greets your guests with style and practicality. The coir top door mat allows guests to clean their shoes. The door mat will also help keep your home floors more sanitary and squeaky clean.
Door mats are an excellent alternative to decorate your doorstep amd welcome your guests. The doormat has a Vinyl back which helps reduce the risk of the mat slipping and sliding in various weather conditions.
The door mat features the classic 'welcome' typography and is surrounded by various, vibrant flowers - guaranteed to be eye-catching.
Features
Coir

Vinyl Backing

Floral Print
| | |
| --- | --- |
| Dimensions: | 40cm (L) x 70cm (W) |
| Surface: | Coir Embedded |
| Backing: | Vinyl |