Home delivery
In stock
Free Click + Collect
Delivery & Returns €4.99 Delivery, Free over €50
FREE Standard Delivery over €50
Get the look
Home Décor / Candles / Tealights
https://www.homestoreandmore.ie/tealights/yankee-candle-sunny-daydream-tealights/109592.html?variantId=109592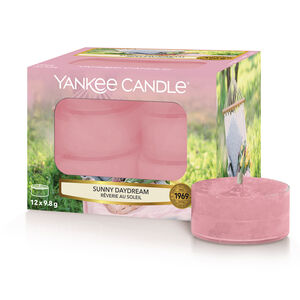 https://www.homestoreandmore.ie/tealights/yankee-candle-sunny-daydream-tealights/109592.html?variantId=109592
Now €7.19
€8.99
7.19
Ready in 2 hours for Click + Collect
Unavailable for Home Delivery
Home Décor / Candles / Votives
https://www.homestoreandmore.ie/votives/yankee-candle-sunny-daydream-votive/109593.html?variantId=109593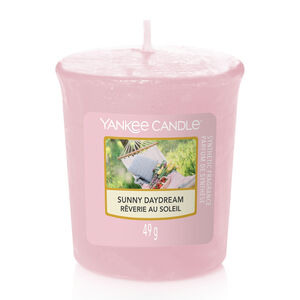 https://www.homestoreandmore.ie/votives/yankee-candle-sunny-daydream-votive/109593.html?variantId=109593
Now €2.00
€2.50
2.00
Ready in 2 hours for Click + Collect
Home delivery available
Home Décor / Candles / Air Fresheners
https://www.homestoreandmore.ie/air-fresheners/yankee-ultimate-car-jar-sunny-daydream/109595.html?variantId=109595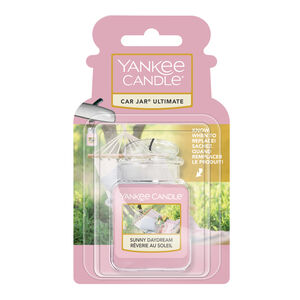 https://www.homestoreandmore.ie/air-fresheners/yankee-ultimate-car-jar-sunny-daydream/109595.html?variantId=109595
€5.99
5.99
Ready in 2 hours for Click + Collect
Home delivery available
The Yankee Candle® Car Jar® is a small air freshener that neutralises odours and freshens your car. It lasts from two to four weeks, which is longer than any other air freshener on the market.
Drift away among the flowers with the warm, sweet scents of exotic ylang ylang, bergamot and jasmine. Contains the following scents: Bergamot, Citrus Blossoms, Gardenia, Ylang Ylang, Jasmine, Amber, Sandalwood, and Patchouli all throughout the initial, middle and final impressions.
Enjoy the authentic Yankee Candle® smell on the go, in your car, or even in small spaces! With a single Car Jar®, simply hang where desired and you're good to go!
Features
Sunny Daydream

Yankee Candle

2-4 weeks of Fragrance

Neautralises Odours

Freshens
Keep out of reach of children. Harmful to aquatic life with long lasting effects. Causes skin irritation and may cause allergic skin reaction. If on skin: Wash with water. If rash/ skin irritation occurs, seek medical attention/advice. Dispose of item with accordance to local regulations. Contains 1H-3a,7-Methanoazulene, octahydro-6-methoxy-3,6,8,8-tetramethyl-, (3R,3aS,6S,7R,8aS)-, Citronellol, 4H-Inden-4-one,
For general information on symbols please read this file
| | |
| --- | --- |
| Dimensions: | 6.9cm x 8.1cm |
| Colour: | Pink |
| Weight: | 12g |
| Fragrance Time: | 2-4 Weeks |
| Brand: | Yankee Candle |