Home delivery
In stock
Free Click + Collect
Delivery & Returns €4.99 Delivery, Free over €50
FREE Standard Delivery over €50
Get the look
Home Décor / Candles / Air Fresheners
https://www.homestoreandmore.ie/air-fresheners/yankee-candle-sunny-daydream-car-jar/109594.html?variantId=109594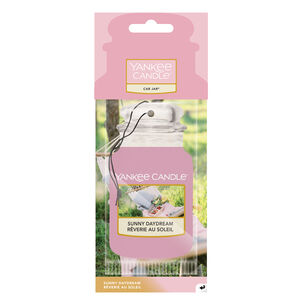 https://www.homestoreandmore.ie/air-fresheners/yankee-candle-sunny-daydream-car-jar/109594.html?variantId=109594
€2.99
2.99
Ready in 2 hours for Click + Collect
Home delivery available
Home Décor / Candles / Air Fresheners
https://www.homestoreandmore.ie/air-fresheners/yankee-ultimate-car-jar-sunny-daydream/109595.html?variantId=109595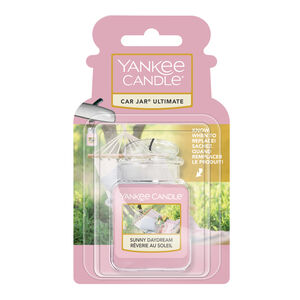 https://www.homestoreandmore.ie/air-fresheners/yankee-ultimate-car-jar-sunny-daydream/109595.html?variantId=109595
€5.99
5.99
Ready in 2 hours for Click + Collect
Home delivery available
Home Décor / Candles / Tealights
https://www.homestoreandmore.ie/tealights/yankee-candle-sunny-daydream-tealights/109592.html?variantId=109592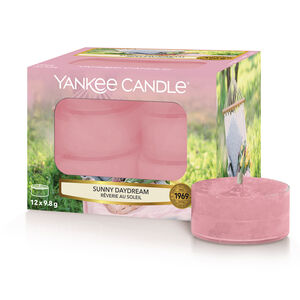 https://www.homestoreandmore.ie/tealights/yankee-candle-sunny-daydream-tealights/109592.html?variantId=109592
Now €7.19
€8.99
7.19
Ready in 2 hours for Click + Collect
Unavailable for Home Delivery
The Yankee Candle® Votive Candles are ideal for fragrance layering and testing out scents, along with enhancing decorative possibilities when used with the Votive Candleholders. Looking for a scent to match a special occasion? We offer Wedding Day to seasonal Christmas votives.
Drift away among the flowers with the warm, sweet scents of exotic ylang-ylang, bergamot, and jasmine. Contains the following scents: Bergamot, Citrus Blossoms, Gardenia, Ylang Ylang, Jasmine, Amber, Sandalwood, and Patchouli all throughout the initial, middle and final impressions.
The Yankee Candle® Votive Candles give a sense of a relaxed, warm environment that's found in homes. They're convenient and easy to use as each are sold separately, wrapped and labelled for up to 15 hours of fragrance!
Features
Sunny Daydream

Yankee Candles

15 Hours of Fragrance

Votive Candles

Premium-Grade Paraffin
Warning - Contains Isocyclemone E, 1H-3a,7-Methanoazulene, octahydro-6-methoxy-3,6,8,8-tetramethyl-, (3R,3aS,6S,7R,8aS)-, Cyclododecane, (ethoxymethoxy)-, Citronellol, 4H-Inden-4-one, 1,2,3,5,6,7-hexahydro-1,1,2,3,3-pentamethyl- May produce an allergic reaction. Contact with product at elevated temperatures can result in thermal burns. For general information on symbols please read this file
For general information on symbols please read this file
| | |
| --- | --- |
| Dimensions: | 4.6cm x 4.8cm |
| Colour: | Pink |
| Weight: | 49g |
| Burn Time: | 15 Hours |
| Wick: | Lead-Free Natural Fibres for best possible burn |
| Wax: | Premium-Grade Paraffin |
| Brand: | Yankee Candle |