Home delivery
In stock
Delivery & Returns €4.99 Delivery, Free over €50
FREE Standard Delivery over €50
Complete The Set
Home Décor / Candles / Votives
https://www.homestoreandmore.ie/votives/yankee-candle-christmas-3-filled-votive-gift-set/141383.html?variantId=141383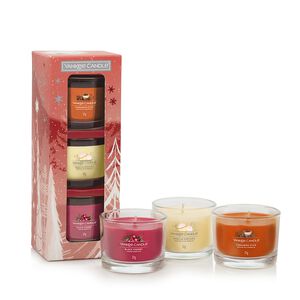 https://www.homestoreandmore.ie/votives/yankee-candle-christmas-3-filled-votive-gift-set/141383.html?variantId=141383
Now €9.99
€12.99
9.99
Ready in 2 hours for Click + Collect
Home delivery available
Home Décor / Candles / Votives
https://www.homestoreandmore.ie/votives/yankee-christmas-4-votive-gift-set/141379.html?variantId=141379
The Yankee Christmas Tealights & Holder Gift Set is the perfect way to create a warm, cosy, and festive atmosphere in any home this holiday season. Infused with a delightful selection of Christmas favourites, this exquisite set features 10 scented Yankee Candle tea light candles, each with a burn time of up to 6 hours.
Paired with the elegant, branded clear glass tea light holder, this gift set is designed to transform your space into a magical, flickering wonderland while filling it with inviting aromas that evoke cherished holiday memories.
Each tea light candle in this gift set is carefully crafted with premium-grade wax, ensuring a clean and even burn that fills the air with enchanting fragrances. Whether you're looking to treat yourself or searching for the perfect gift for a loved one, the Yankee Christmas Tealights & Holder Gift Set is an excellent choice.
Features
10 Festive Scents

6-Hour Burn Time

Elegant Glass Holder

Premium Grade Paraffin Wax

Perfect for Gift Giving
WARNING! Remove all packaging before burning. Always use a suitable, undamaged, heat resistant candle holder. Ensure wick is centralised at all times during burning. Never leave a burning candle unattended. Keep candle out of reach of children and pets. Keep the wax pool clear of debris to avoid flaring. Always allow to cool before moving. Ensure container is undamaged. Container will become hot during use. Container is not suitable for food or drink use.
For general information on symbols please read this file
| | |
| --- | --- |
| Contains: | 10 Candles & 1 Holder |
| Scents: | Festive Scents |
| Burn Time: | 6 Hours Each |
| Wax: | Premium Grade Paraffin |
| Wick Type: | Lead-Free Fibre |
| Brand: | Yankee Candle |