Home delivery
In stock
Delivery & Returns €4.99,
Free Standard Delivery over €50
Order before 2pm for NEXT DAY DELIVERY*
Additional Information
Description
The Ambianti Dried Flower Clean Cotton Reed Diffuser will fill any room with a fresh scent. With its beautiful presentation of a glass vessel and its vibrant and stylish dried flowers, this reed diffuser is sure to add charm to any interior design.

The clean cotton scent is a refreshing aroma of fresh, crisp linen with blends of eucalyptus, blossom and cut grass. This reed diffuser is created to be long lasting by releasing its fragrant aroma slowly up the reeds and throughout the room.

This dried flower reed diffuser will also make an excellent gift to give to others. Reed diffusers are ideal for freshening up any living space while also being a wonderful addition to room decor. We have an extensive range of candles, diffusers, essential oils, and room sprays on our website. Make sure to check them out.

Ambianti Dried Flower Clean Cotton Reed Diffuser
Disperses Fragrance Slowly & Effectively, Freshening up any Room
Provides an Elegant Way to Scent Your Home
Glass Vessel with Vibrant & Stylish Dried Flowers
Fresh, Clean Linen Aroma with Blends of Eucalyptus, Blossom, & Cut Grass.
Specifications:
Dimensions:

5.5cm x 5.5cm x 24cm

Weight:

325g

Capacity:

100ml

Brand:

Ambianti

Material:

Glass, Flowers, Reed

Colour:

Clear, White




WARNING!
Warning - Contains: Coumarin, Geraniol, Lyral, Isoeugenol, Benzyl benzoate, Citronellol, Hexyl cinnam-aldehyde, Lilial, Linalool, 3-Methyl-4-(2,6,6-tri-methyl-2-cyclohex-en-1-yl)-3-buten-2-one. Toxic to aquatic life. Long lasting affects. May cause an allergic skin reaction. For general information on symbols please read this file
Home Décor / Candles / Reed Diffusers & Sachets
https://www.homestoreandmore.ie/reed-diffusers-sachets/ambianti-dried-flower-spring-flower-reed-diffuser/108830.html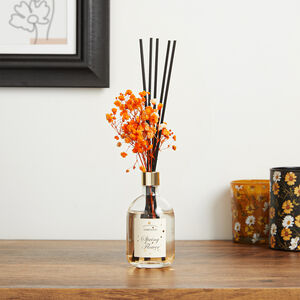 https://www.homestoreandmore.ie/reed-diffusers-sachets/ambianti-dried-flower-spring-flower-reed-diffuser/108830.html
€6.99
6.99
Home Décor / Candles / Reed Diffusers & Sachets
https://www.homestoreandmore.ie/reed-diffusers-sachets/ambianti-dried-flower-lemon-lavender-reed-diffuser/108833.html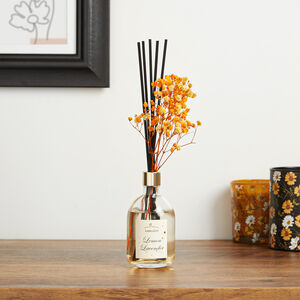 https://www.homestoreandmore.ie/reed-diffusers-sachets/ambianti-dried-flower-lemon-lavender-reed-diffuser/108833.html
€6.99
6.99