Home delivery
In stock
Delivery & Returns €4.99,
Free Standard Delivery over €50
Order before 2pm for NEXT DAY DELIVERY*
Additional Information
Description
The Yankee Candle® Christmas Tealights & Holder Gift Set contains a selection of festive scents to get you in the Christmas spirit. Give the gift of Yankee this Christmas to transform someones home into a delightful wintertime haven!

This gift set is part of the Yankee's Countdown to Christmas collection. It contains ten fabulous tealights and a tealight holder. The tealights burn for between 4 to 6 hours each, providing a warm glow and comforting scent during those cold, winter nights.

The scents included are Twinkling Lights, Tree Farm Festival, Letters To Santa, Christmas Eve Cocoa, Snow In Love, Candlelit Cabin, Christmas Magic, Christmas Eve, Snowflake Cookie, Christmas Cookie and a clear glass tealight holder. Eash was chosen to provide you with a nostalgic festive scent that's sure to remind you of all Christmas has to offer.

Yankee Candle 10 Tea Light & Holder Christmas Gift Set
10 Tealights
Christmas themed scents
4-6 hour burn time
Perfect for gift giving!
Specifications:
Dimensions:

6cm x 8.5cm

Burn Time:

4-6 hour burn time

Wick:

Lead-Free Natural Fibres for best possible burn

Wax:

Premium-Grade Paraffin

WARNING!
May cause an allergic skin reaction.Toxic to aquatic life. May cause long-term affects. For general information on symbols please read this file
Seasonal / Christmas / Christmas Candles & Holders
https://www.homestoreandmore.ie/christmas-candles-holders/yankee-christmas-small-jar-and-3-votive-gift-set/118407.html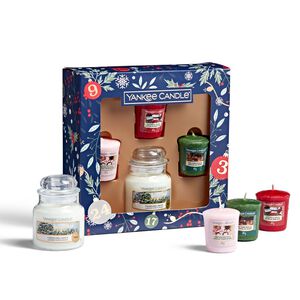 https://www.homestoreandmore.ie/christmas-candles-holders/yankee-christmas-small-jar-and-3-votive-gift-set/118407.html
€14.99
14.99
Seasonal / Christmas / Christmas Candles & Holders
https://www.homestoreandmore.ie/christmas-candles-holders/yankee-christmas-4-votive-gift-set/118401.html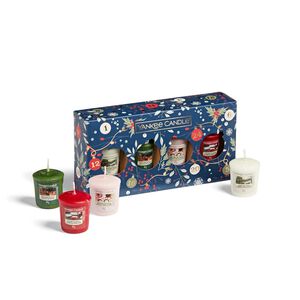 https://www.homestoreandmore.ie/christmas-candles-holders/yankee-christmas-4-votive-gift-set/118401.html
€7.99
7.99